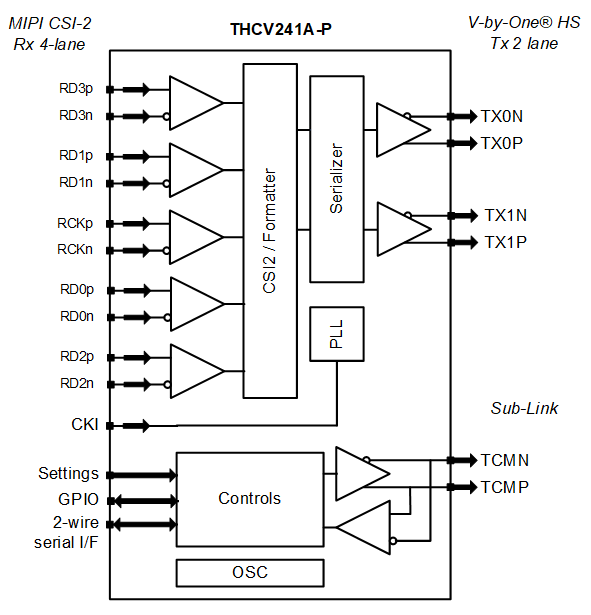 Overview
The THCV241A-P - THCV242-P SerDes Chipset provides long distance and high speed image data link solution for MIPI® CSI-2, camera serial interface. It has high speed image data channel and low speed bidirectional control channel over the link. The high speed image data link is designed to support image signal up to 4K UHD (8-mega pixel) 60fps RAW10. The bidirectional control link supports to communicate with I2C/GPIO.
4K UHD (8-mega pixel) 60fps RAW10
MIPI® CSI-2 to V-by-One® HS conversion
MIPI® CSI-2 input
Supports up to 1.5Gbps/lane
Supports 1,2 or 4 lanes
V-by-One® HS output
Supports up to 4.0Gbps(effective rate 3.2Gbps)
Supports 1 or 2 lanes
Embedded spread spectrum clock generator
Power Supply voltage : 1.7V-3.6V、1.1V-1.3V
Bi-directional system control link with I2C/GPIO
Distribution(Replication) mode
Package:QFN40 (5mm x 5mm)
Operating temp.:-40 to 105℃
Recommended Rx:
 THCV242-P
Application:
 Endoscope
 Security camera
 Industrial camera
 Dash cam
-"MIPI
®
" is a registered trademark of MIPI Alliance, Inc.
Go to FAQ for this product
Purchase Samples
Download documents
Data Sheet

Design Guide

Resister Map