LVDS (SerDes)
THine Electronics, Inc. has firstly launched LVDS products among Japanese semiconductor makers and still hold a high share in the market.
We offer the highest quality in terms of jitter performance, skew margin, and power consumption. As the result, a lot of customers in various applications such as tablet PCs, televisions, multifunction printers, and automotive entertainment products approve THine's LVDS.
Low Voltage Differential Signaling (LVDS) is a data transmission interface standard to achieve over 100Mbits/sec. Low swing amplitude Voltage around 100mV enables high-speed switching operation, but generally becomes easy to receive noise from outside. LVDS enables to suppress noise by differential signaling with different polarity.
THine has a lot of product lineups which adopt an LVDS technology.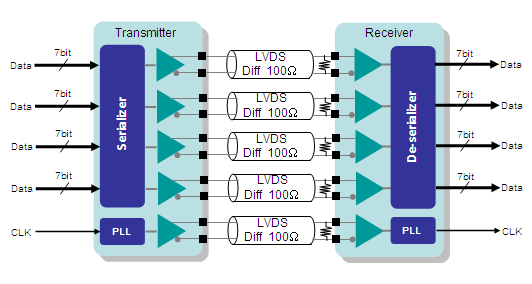 What are the advantages of THine LVDS Products?
■1.8V low power consumption and small-sized
THC63LVDM87 / THC63LVD827
■Interconversion between Single and Dual Pixel Link
THC63LVD823B / THC63LVD1023B /
THC63LVD1024 / THC63LVD1027
■Selectable Various cable such as a STP,TP,FFC,FPC.  
THine's LVDS is still holding a high share in the market and used by a lot of customers in various applications such as tablet, LCD TVs, multi-function printers, automotive entertainment products approve.
The product introduced on this page is RoHS (2011/65/EU) compliant.

Please contact THine's authorized distributors regarding documents for environmental regulations (MSDS, ICP report, Conflict Minerals, etc) and product spec documents (detailed information on package, packing, etc). Click here to find distributors.

Click here for further question.

V-by-One®HS (SerDes)
V-by-One® (SerDes)
Transceivers
Repeater
LVDS (SerDes)
LED Driver
Motor Driver
ISP (Image Signal Processor)
TCON (Timing Controller)
Video ADC
PMIC (Power IC)
Power Module