-Drastically increasing freedom of arrangement of high-resolution cameras necessary for IoT and AI processing-

TOKYO (April 24, 2018) – THine Electronics, Inc. (JASDAQ: 6769), the global leader in high-speed serial interface and provider of mixed-signal LSI, today announces that THine has cooperated with Silicon Technology Co., Ltd. to produce a module that enables long-distance transmission (15 meters at maximum) of images when a camera is connected to "Raspberry Pi," which has become popular worldwide as board computer, and will start sale of the module through Silicon Technology from the 3rd quarter of 2018. This "Raspberry Pi" camera long-distance transmission module will be exhibited at the booth of Silicon Technology (West Hall 11-10) at "2018 JAPAN IT WEEK Spring The 21st Embedded Systems Expo" held at Tokyo Big Sight from May 9, 2018.

While there has been wide range of application of IoT and A.I. as typified by Industry 4.0 to manufacturing sites to improve efficiency, demand and use case of "Raspberry Pi" have increased, which is a small, cheap, but high-performance board computer meeting needs of IoT and AI processing. On the other hand, since the distance to transmit MIPI signals output from cameras is generally limited to several tens of centimeters in a conventional system with FFC cables, there has been difficulties in free arrangement of cameras.

With recognition of needs of "Raspberry Pi" camera and such a problem for application in IoT and AI, THine has developed a solution that drastically increase freedom of arrangement of cameras to enable long-distance transmission of 15 meters at the maximum, and will start sale of the solution through collaboration with Silicon Technology.

This solution comprises transmitter circuit board connected to "Raspberry Pi" camera and add-on board (HAT board) incorporating receiver circuit connected to "Raspberry Pi" main unit. The two boards are connected to each other by THine's original technology, V-by-One® HS. Since it is possible to extend transmission distance of several tens of centimeters to 15 meters at the maximum by one cable thinner than FFC cable with several centimeters width, cameras can be arranged more freely.

"While 'Raspberry Pi' has been widely used for IoT and AI, there has been a problem of limited transmission distance in arranging cameras. THine has developed a solution to overcome such a problem. Increase of use cases of creating small and cheap but high-performance and high-freedom camera systems is expected through provision of a module that enables drastic extension of transmission distance of 'Raspberry Pi' camera to 15 meters at the maximum by collaboration with Silicon Technology. In addition to provision and sale of this solution, THine will develop and provide added-value for expanding possibility of IoT and sensor fusion system to meet further needs of customers," says Yasuhiro Takada, CEO of THine Electronics.

■Characteristics of Raspberry Pi Camera Extension Solution
・Raspberry Pi Camera Module for V1.3/V2.1
V2.1: 8MP Moving Image: 1080p30, 720p60, 640x480p90
V2.1: 8MP Still Image: 3280 x 2464
V1.3: 5MP Moving Image: 1080p30, 720p60, 640x480p90
V1.3: 5MP Still Image: 2592 x 1944
・Handling Raspberry Pi Camera Module Output Signal MIPI CSI-2
・Transmission Signal System between Boards: V-by-One® HS Standard Compliant
・Signal Transmission Speed: 1.0Gbps
・Camera Side Circuit Board Size: 25mm x 26mm
・Raspberry Pi Side Add-on Board Size: 56mm x 65mm

■Sale
・Sold through website of Chip One Stop, Inc. (http://www.chip1stop.com/)
・Sold from September 1, 2018 (planned)




Photo of Transmission Board


Photo of Add-on Board Incorporating Receiver Circuit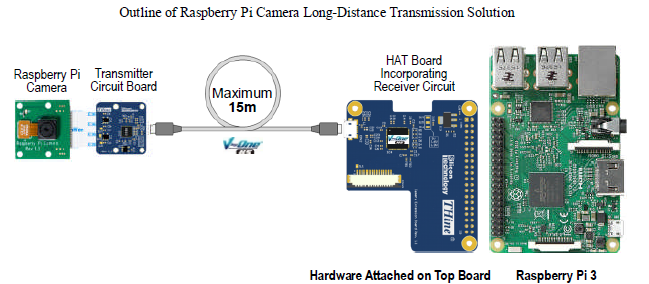 ■Applications
・Programming and device control learning in education
・IoT for industry
・Camera image AI recognition system


THine Electronics Incorporated is a fabless maker that provides innovative mixed signal LSI and analog technologies such as V-by-One® HS, LVDS, other high-speed data signaling, timing controller, analog-to-digital converter, ISP, power management and drivers for LEDs and motors in growing niche markets for our customers' solutions, targeting its strategic markets in flat screen TVs, smart phones, document processing, amusement, industrial application, and automotive markets. THine is headquartered in Tokyo, and has subsidiaries in Taipei, Seoul, Hong Kong, Shenzhen, Shanghai, and Santa Clara. THine Electronics is listed on JASDAQ of Tokyo Stock Exchange under the security code of 6769. For more information, please visit https://www.thine.co.jp/en/.


Silicon Technology Co., Ltd. (Headquarter: Setagaya-ku, Tokyo, President & CEO: Daigoro Shihodo), is an independent electronics trading company. Silicon Technology sells electrical components such as semiconductor, LCD, wireless module, and connector as Japanese distributor for suppliers in Japan, Taiwan, China, United States, EU, Canada, and Israel. Silicon Technology also develops and designs various boards and designs mechanics, and handling products from test production to mass production.
TRADEMARKS All trademarks and registered trademarks are the property of their respective owners.
---