HOME >
CDK(Camera Development Kit)
CDK(Camera Development Kit)
CDK Overview
・THine's CDK (Camera Development Kit) allows camera system developers to fine tune THine's 16M pixel Image Signal Processor (ISP) - THP7312's firmware in house according to their requirements, and actualizes fast time-to-market of their camera systems.

・This shortens time to fine tune THP7312's firmware according to the requirements of camera system developers. It also reduces workload to develop camera systems.

・This CDK consists of 3 major components, SDK (Software development Kit), 3T (THine Tuning Tool) and EVB (EValuation Board).

・SDK is a set of source codes and binary libraries of THP7312's firmware for a reference Camera Module.

・You can change parameters inside the THP7312 firmware to tune the firmware for your own Camera Module by utilizing 3T, GUI based easy to use, Camera System Development tool.

・You can check the tuning results by 3T & EVB, and connect your own Camera Module on your Header Board.
CDK's 3 major components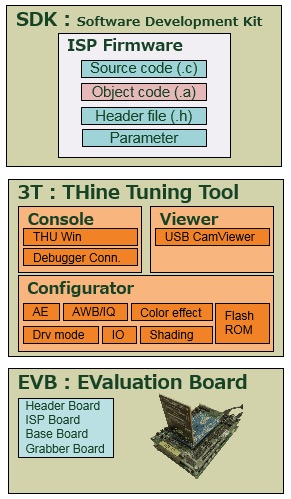 ・SDK consists of :
1) Sample firmware source code
2) Firmware binary library including Internal hardware drivers
3) External hardware driver templates


・GUI based tuning tool for THine's ISP firmware
・Generate tuned firmware in source or binary format
・Or modify ISP's registers directly to instant check.



・EVB comprises Header Board, ISP (THP7312) Board and Frame Grabber Board
ISP features you can tune with CDK

- Frame Size Up to 16M pixel
- Frame Rate 16fps@16M pixel, 20fps@13M pixel, 30fps@4K2K, 120fps@1080p, 240fps@720p etc.
- Pixel Rate 300M pixel/sec


- Sensor   MIPI CSI-2 up to 4lane 1G bps/lane RAW12/10bit
LVCMOS Parallel RAW12/10
- Host MIPI CSI-2 up to 4lane 1G bps/lane YUV420/422 or JPEG
LVCMOS Parallel YUV422 or JPEG


Sensor Correction
 ・Black Level Correction
 ・Adaptive Correction of Defect Pixels    
 ・Lens Shading Correction

Adaptive Image Signal Processing
 ・Noise Reduction
 ・Edge Enhancement
 ・Multi Axis Color Correction
 ・Tone Mapping
    
Auto Functions      
 ・Multi point Auto Exposure
 ・Continuous Auto Focus
 ・Auto White Balance
 ・Flicker Cancel

Others
 ・JPEG encoder
 ・Horizontal Mirror
 ・Special Effects (Monochrome, Sepia, Reverse)
Related Contents