Repeater (Redriver/Retimer)
NEW
The THCX series is a repeater IC for high-speed serial signals.


By using THCX series, you can reduce the constraints on the board layout while maintaining the quality of the signal when the transmission distance is long.
THCX series

The repeater IC reforms the high-speed signal and improves the signal quality of the gigabit sirial interface.

To ensure high reliability with a high frequency system, t
he design that suppresses the deterioration of the signal is important.
By using signal equalization, pre-emphasis and liner equalizer, repeater IC can compensate for channel loss and other signal distortion at receiver end.
This allows you to configure a high reliable system with a low bit error rate (BER).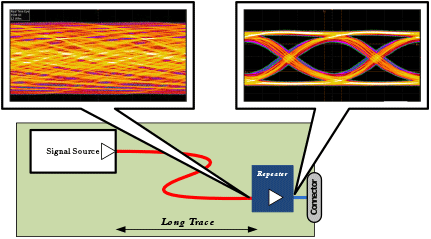 The repeater products have a re-driver and Re-Timer.
Re-driver with equalization compensates for a deterministic jitter, such as inter-symbol interference (ISI) by input loss.
Re-Timer with equalization and CDR compensate for both the de-stick jitter and the random jitter.

AI&IoT Solution
V-by-One®HS (SerDes)
V-by-One® (SerDes)
Repeater
LVDS (SerDes)
LED Driver
Motor Driver
ISP (Image Signal Processor)
TCON (Timing Controller)
Video ADC
PMIC (Power IC)
Power Module