TOKYO (April 30, 2021) – THine Electronics, Inc. ("THine"), the global leading semiconductor company focusing on high-speed serial interfaces and image signal processing today announces that the collaboration between Appro Photoelectron Inc. ("APPRO") and THine has developed the new 4K60fps camera module solution and will offer such value to high resolution and high frame rate camera use cases, especially in medical cameras, automotive cameras, broadcasting sports cameras, and surveillance cameras.
This 4K60fps camera module supports NVIDIA Jetson Xavier/Xavier-NX/TX2-NX/TX2/NANO with THine's V-by-One® HS products, THCV241A-P and THCV242-P, that enable to transmit 4K60fps image data for long distance.
It is applicable to medical cameras such as endoscopes that are required real-time imaging with higher frame rate during surgery operations, automotive cameras that are required to capture images of distant people and objects with higher frame rate and high-dynamic-range rendering. Also this 4K60fps camera module's high frame rate solution is applicable to broadcasting sports cameras and surveillance cameras as well.
THine has a wide range of product lineups for varied use cases, including noise-tolerant chipset of THCV241A-P and THCV242A-P, and continuously contributes to broad needs in camera applications with high resolution and high frame rate.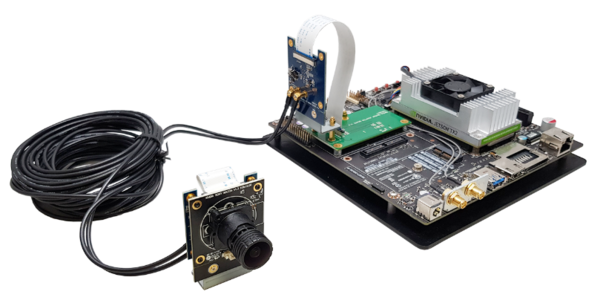 * "V-by-One" is a registered trademark of THine Electronics, Inc.



Appro Photoelectron Inc. ("APPRO") was established in 1999 and dedicated itself to be a professional design house for image products to help customers to develop products. APPRO is dedicated in image processing technology. APPRO has own developed algorithm to do customize the image quality to meet the real needs of customers. For the Artificial Intelligence and Deep Learning applications, APPRO can offer a "good eyes" to help customers to do the analysis. With the good image quality, it can greatly increase the accuracy. APPRO is a reliable partner with practical and skillful experiences on NVIDIA platform, etc. to help customers to develop products with camera features. In image quality, APPRO can help customers to make products differentiation from others. For more information, please visit its WEB site (http://www.appropho.com/).
TRADEMARKS
All trademarks and registered trademarks are the property of their respective owners.
---