V-by-One® (SerDes)
V-by-One® reduces the number of cables!
This advaced SerDes interface can save space of PCBs and power consumption. And then, that achieve lower EMI and data transmittion for long distance. V-by-One® can be adopted in various application, suited to car navigation, security camera systems, multi-function printers, and any other video graphics systems.
What is V-by-One®?
V-by-One® was developed by THine Electronics to video transmission with serial interface of 21 multiplication. It is possible to digital video transmission of 10meter via one-pair cable only.
V-by-One® contributes cost reduction since it can reduce the number of the cables, compared with the parallel interface of conventional LVCMOS method.

V-by-One® advantages
■Clockless transmission
CDR* technology solves the skew problems. V-by-One® does not require clock.
*
Clock Data Recovery
■
High Speed Serial conversion
To contribute to reduce systems cost by 21:1 serial conversion.
No software control, just insert on video stream.
■
Wide variety of cable choice
Any cable will be useful as long as impedance matching differential 100ohm cable.
For example, LAN, SATA, USB,FFC/FPC,HDMI*, DisplayPort, STP cable.



While of the same type cable, the characteristics might be the difference. Please use them after evaluate your system.
*'
HDMI' is a trademark or registered trademark of HDMI Licensing, LLC.
From small to middle size video image, embedded solution THCV213, THCV214
The product introduced on this page is RoHS (2011/65/EU) compliant.

Please contact THine's authorized distributors regarding documents for environmental regulations (MSDS, ICP report, Conflict Minerals, etc) and product spec documents (detailed information on package, packing, etc). Click here to find distributors.

Click here for further question.
Advantages of CDR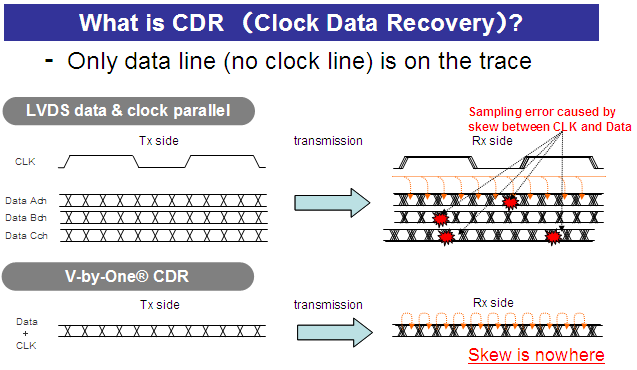 Function Introducing of V-by-One

®

THCV213 and THCV214
■Pre-Emphasis
-Pre-Emphasis correct waveform distortion
-Endure lower cost cable or longer harness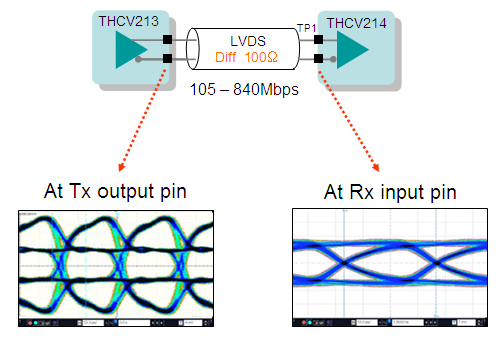 ■Dual Mode
Duplicates signal from 1 port and distributes them from 2 ports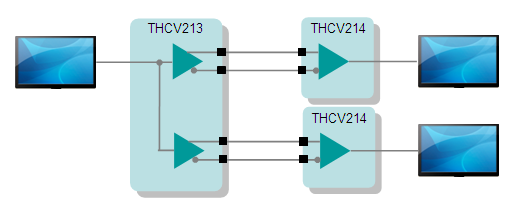 ■PBRS Mode
Generates signal internally only with clock input.

AI&IoT Solution
V-by-One®HS (SerDes)
V-by-One® (SerDes)
Repeater
LVDS (SerDes)
LED Driver
Motor Driver
ISP (Image Signal Processor)
TCON (Timing Controller)
Video ADC
PMIC (Power IC)
Power Module