Buy
Purchase on-line
Consult THine Sales, Partner, Distributor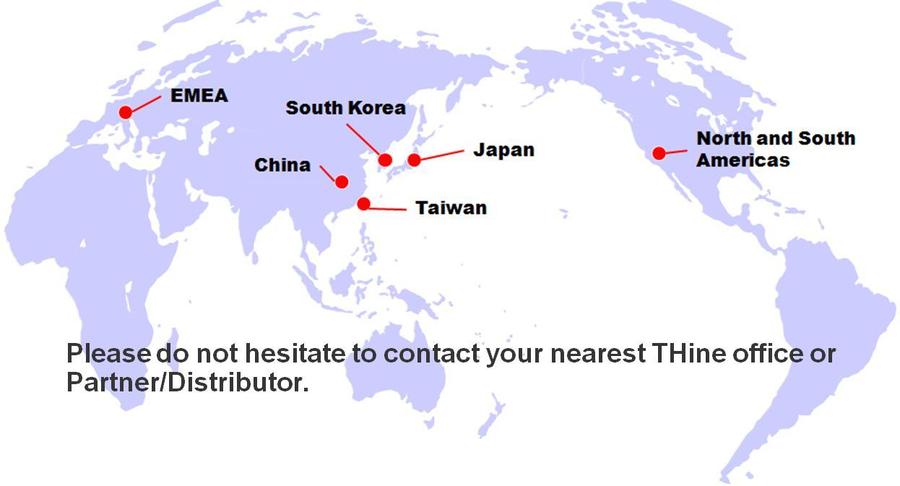 Customers in Americas or Israel:


California Eastern Laboratories, Inc.

is THine's

exclusive partner for your area.







For prompt responses to your area, please send your inquiry to the link below:


http://www.cel.com/THine-inquiry

[USA, Canada, Israel, Mexico, South America]
---
CEL, California Eastern Laboratories


4590 Patrick Henry Drive, Santa Clara, CA 95054 USA
e-mail: THineinfo@cel.com
+1 (408) 919-2500
www.cel.com

[EMEA except for Israel]
---
KD TEC s.r.o.


Nadrazni 722, PSC 345 06 Kdyne
Czech Republic
+420-379-432-420
http://www.kdtec.cz/

HY-LINE Computer Components Vertriebs GmbH


Inselkammerstr. 10, 82008 Unterhaching, GERMANY
e-mail: computer@hy-line.de
+49-89-614503-44


Atlantik Elektronik GmbH


Fraunhoferstraße 11a, D-82152 Planegg
e-mail: info@atlantikelektronik.com
+49 89 89 505-0


[Korea]
---
THine Electronics Korea, Inc.
#1432 Gwanghwamun Officia, 163, 1-ga Shinmunno, Jongno-gu, Seoul, 110-999, KOREA
+82-2-3276-2012



[Taiwan, India, South East Asia]
---
THine Electronics Taiwan, Inc.
Rm. 2, 3F., No.129, Sec. 2, Zhongshan N. Rd., Zhongshan Dist., Taipei City 10448, TAIWAN R.O.C.
+886-2-2564-2277


[China]
---
THine Electronics Shenzhen Co., Ltd.
1206B, Block A, Tiley Central Plaza, Haide San Dao, Nanshan District, Shenzhen, Guangdong, P.R.C.
+86-755-8633-2112


THine Electronics Shenzhen Co., Ltd. Shanghai branch
207 Wu Lu Mu Qi Bei Lu JingAnSi, Jingan Qu, Shanghai, P.R.C.
+86-21-6010-0502


[Other Area]
---
THine Electronics, Inc.
MD-Kanda Building, 9-1 Kanda-mitoshiro-cho, Chiyoda-ku, Tokyo 101-0053 JAPAN
+81-3-5217-6660

Inquiries on THine's Products to THine HQ Sales Department
"Products Information"assists you with your questions about Products and how to purchase.
Business Hour 9:00~17:30(Japan time) Sales Department.
| | |
| --- | --- |
| TEL | +81-3-5217-6661 |
| FAX | +81-3-5217-6668 |
| Inquiry | Inquiry Form |
How to get V-by-One® HS Standard?
THine discloses V-by-One®HS Standard to respond customers' requests to achieve higher speed and improve quality of video signal transmission by wide availability of V-by-One®HS toward de-facto standard.
・The simple version
・The full detail version for downloads.(need a license)
for downloads.(not need license)
"V-by-One" is a registered trademark of THine Electronics, Inc.

FAQ
Before purchasing

Thinking of purchasing

After purchasing