Buy
Purchase on-line
Contact THine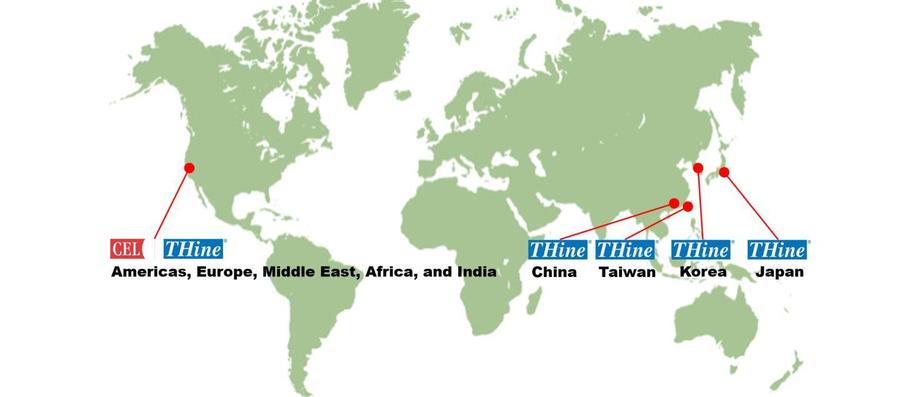 For Customers Headquartered in the Americas, Europe, Middle East, Africa, or India;
CEL is THine's EXCLUSIVE partner for your area. CEL is responsible for technical support, fulfilment and QA support including channel management.
For prompt responses, please send your inquiry to the link here: www.cel.com/THine-inquiry

[ Americas, Europe, Middle East, Africa, and India ]
---
CEL, California Eastern Laboratories, Inc.


4590 Patrick Henry Drive, Santa Clara, CA 95054 USA
e-mail: THineinfo@cel.com
+1 (408) 919-2500
www.cel.com


[Korea]
---
THine Electronics Korea, Inc.
#1432 Gwanghwamun Officia, 163, 1-ga Shinmunno, Jongno-gu, Seoul, 110-999, KOREA
+82-2-3276-2012



[Taiwan, South East Asia]
---
THine Electronics Taiwan, Inc.
Rm. 2, 3F., No.129, Sec. 2, Zhongshan N. Rd., Zhongshan Dist., Taipei City 10448, TAIWAN R.O.C.
+886-2-2564-2277


[China]
---
THine Electronics Shenzhen Co., Ltd.
1206B, Block A, Tiley Central Plaza, Haide San Dao, Nanshan District, Shenzhen, Guangdong, P.R.C.
+86-755-8633-2112


THine Electronics Shenzhen Co., Ltd. Shanghai branch
207 Wu Lu Mu Qi Bei Lu JingAnSi, Jingan Qu, Shanghai, P.R.C.
+86-21-6010-0502


[Other Area]
---
THine Electronics, Inc.
MD-Kanda Building, 9-1 Kanda-mitoshiro-cho, Chiyoda-ku, Tokyo 101-0053 JAPAN
+81-3-5217-6660

Inquiries on THine's Products to THine HQ Sales Department
"Products Information"assists you with your questions about Products and how to purchase.
Business Hour 9:00~17:30(Japan time) Sales Department.
| | |
| --- | --- |
| TEL | +81-3-5217-6661 |
| FAX | +81-3-5217-6668 |
| Inquiry | Inquiry Form |
How to get V-by-One® HS Standard?
THine discloses V-by-One®HS Standard to respond customers' requests to achieve higher speed and improve quality of video signal transmission by wide availability of V-by-One®HS toward de-facto standard.
・The simple version
・The full detail version for downloads.(need a license)
for downloads.(not need license)
"V-by-One" is a registered trademark of THine Electronics, Inc.

FAQ
Before purchasing

Thinking of purchasing

After purchasing