TCON (Timing Controller)
THF Series, used THine's well proven products core technology, is a integrating all necessary function into 1 chip for TFT LCD panels. It supports varies LCDs driving method for general active-matrix such as varied LCDs panel driving method. This products can use combination with THine's PMIC and LED Drivers.
Waht is Timing controller?
The timing controller, also called TCON and T-CON, is to generate the horizontal and vertical timing panel signals. It also provides panel bias and enable signals.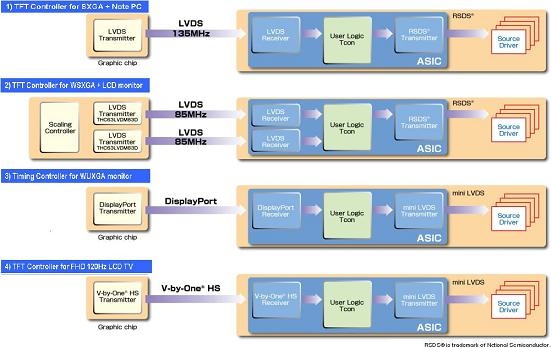 The product introduced on this page is RoHS (2011/65/EU) compliant.

Please contact THine's authorized distributors regarding documents for environmental regulations (MSDS, ICP report, Conflict Minerals, etc) and product spec documents (detailed information on package, packing, etc). Click here to find distributors.

Click here for further question.
Under construction

AI&IoT Solution
V-by-One®HS (SerDes)
V-by-One® (SerDes)
Repeater
LVDS (SerDes)
LED Driver
Motor Driver
ISP (Image Signal Processor)
TCON (Timing Controller)
Video ADC
PMIC (Power IC)
Power Module