Power Module
THV8XXXX series is the small package power module which realized the industry's best-level performance of ultra-high-speed transient response for stability behavior of LSI(FPGA, ASIC, ASSP). THV8XXXX seires can flexible setting output voltage turn-on and turn off delay time. In addition, THV8XXXX series has a output discharge function to On/Off sequence and prevent a malfunction of the load when the turn-off.
Ultra-high-speed transient response power module THV8XXXX series

<Application>
LSI(ASIC, ASSP, FPGA, DSP, DDR)

<Feature>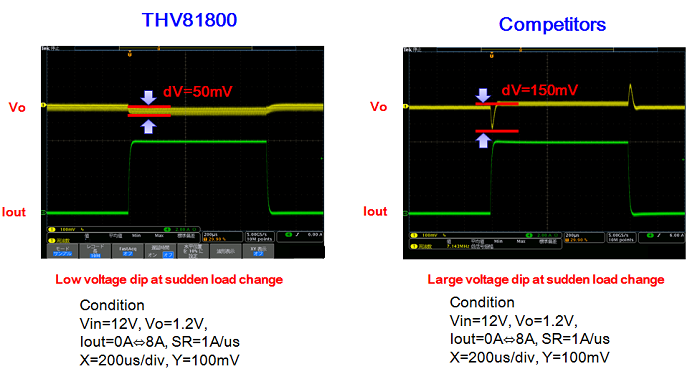 Usual power supply circuits, in case of drastic changes in the current load, cannot respond to such high-speed transient and result in large voltage dips that may cause malfunction of digital circuits or, in the worst case, damage the circuits. Supported by THine's Transphase technology, THV81800 can avoid such troubles in power systems because it responds to the high-speed transients appropriately and minimizes the voltage dips.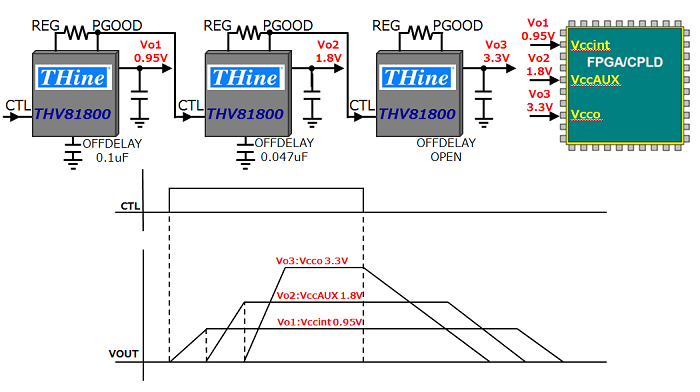 THine's THV81800 achieves significantly high efficiency, for example, approximately by 2% higher than usual power systems under operations driven in 4A. In addition, THine's Powerlinker technology allows smarter power sequential controls. Powerlinker technology enables to design highly freely the sequence of each voltage rail's power-on/off, linking each power supply if multiple power supply required.
THV8XXXX is high Efficiency step down dcdc power module.
This products has the sequence setting function for power supply system.

AI&IoT Solution
V-by-One®HS (SerDes)
V-by-One® (SerDes)
Repeater
LVDS (SerDes)
LED Driver
Motor Driver
ISP (Image Signal Processor)
TCON (Timing Controller)
Video ADC
PMIC (Power IC)
Power Module