Motor Driver
The THM35 series is leading-edge Motor drivers that have debuted featuring the harmonization of our proven technologies used in LVDS and power management ICs. By LVDS serial control, you can long-distance transmission while keeping the malfunction in static electricity such as noisy environment.
THM356X series is a motor driver for driving a unipolar stepper motor. Four channel high-voltage and low on-resistance MOSFET are controlled by serial interface.
Serial interface can choose LVDS transmission, providing high noise immunity, high speed, long-distance transmission. A built-in 4-bit shift resister in order to send a signal sensor for detecting the position to the microcomputer . It is possible to significantly reduce the number of parts.
The arrangement of motor driver can be easily, because serial interface correspond the multi-drop connection(*) and the cascade connection.
Simple communication protocol is reduced the processing of the microcomputer.
This product will operate at 5V using a built-in regulator, but by supplying a 3.3V to VIO pin, can be connected directly to the 3.3V system microcomputer.
It is possible that a built-in clamp diode to the driver output, and to reduce the number of parts. It can be performed easily design of the damper circuit.
(*If you wish to multi-drop connections, please contact THine.)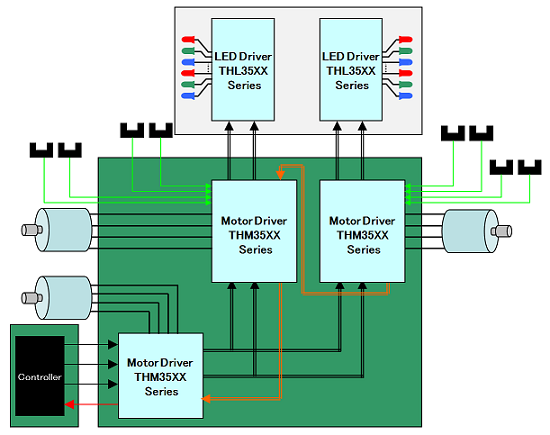 For Amusement device and General use
The product introduced on this page is RoHS (2011/65/EU) compliant.

Please contact THine's authorized distributors regarding documents for environmental regulations (MSDS, ICP report, Conflict Minerals, etc) and product spec documents (detailed information on package, packing, etc). Click here to find distributors.

Click here for further question.

AI&IoT Solution
V-by-One®HS (SerDes)
V-by-One® (SerDes)
Repeater
LVDS (SerDes)
LED Driver
Motor Driver
ISP (Image Signal Processor)
TCON (Timing Controller)
Video ADC
PMIC (Power IC)
Power Module