THine releases full-HD data transmission by just-one-pair cable with new V-by-One®HS products at China Public Security Expo 2015


2015/10/29
TOKYO (October 29, 2015) – THine Electronics, Inc. (JASDAQ: 6769), the global leader in high-speed serial interface and provider of mixed-signal LSI today announced exhibiting its new solution of full-HD data transmission by just-one-pair cable with its new V-by-One
®
HS products at China Public Security Expo 2015 (CPSE2015) held in Shenzhen, China from October 29, collaborating with one of the most valuable Chinese slip ring makers, Hangzhou Prosper Mechanical & Electrical Technology Co., Ltd. (Prosper).
CPSE is held in every other year and this year's exhibition is 15
th
CPSE over long history of 26 years, increasing the visitors from worldwide. THine's exhibition of the new solution consists of its brand-new V-by-One
®
HS products of THCV235 and THCV236 and Prosper's slip ring products. The new V-by-One
®
HS products achieve wide frequency range from 6MHz to 160MHz that allows THine's unique value of full-HD data transmission by just-one-pair cable. In addition, THCV235 and THCV236 supports wide range supply voltage from 1.7V to 3.6V. Customers obtain various options on system development and applicable usage.
Users can reduce system costs, expand designing options, and decrease noises by electro-magnetic interference with the new V-by-One
®
HS products. Furthermore, THCV235 and THCV236, using 2 units, can transmit 4K data with 30fps only by 2 pairs. This allows customers such as security camera makers to expand their developing options. The new products also have valuable function of addable SSCG on data stream that can support delicate systems with tough EMI constraints. THCV235 and THCV236 achieve another value by remote-side GPIO control and monitoring that allows customers to simplify their system designs.
THCV235 and THCV236 are available today and have already been adopted by automotive drive recorders under mass production. Through THine's exhibition at CPSE2015 and various appeals worldwide, THine plans to deliver these value of smart data transmission widely also in industrial applications.
■Full-HD Data Transmission Demo at CPSE2015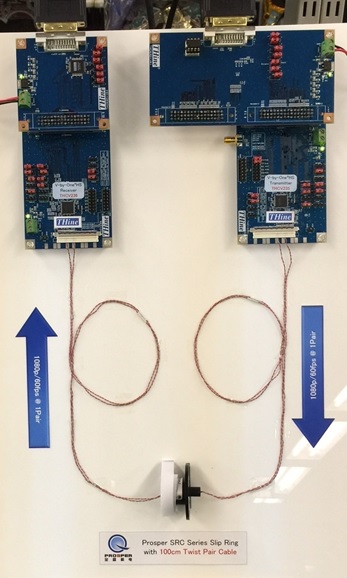 ■
Key benefits of V-by-One
®
HS new products
・V-by-One
®
HS Standard Version 1.4 compliant
・Wide bandwidth: 6MHz~160MHz
・No external reference clocks required
・Bridge function for one-pair serial interface
・Addable SSCG on data stream for reducing EMI
・Package: THCV235 / THCV236: QFN64 (9mm x 9mm)
TRADEMARKS All trademarks and registered trademarks are the property of their respective owners.