THine starts mass production of its new I/OSpreader products with capability of 100 m digital signal transmission for industrial equipments


2015/09/25
TOKYO (September 25, 2015) -- THine Electronics, Inc. (JASDAQ: 6769), the global leader in high-speed serial interface and provider of mixed-signal LSI, today announced starting mass production of its new I/OSpreader products, THCS133 and THCS134, that can transmit digital signal for 100 meters. These new products are available globally through its distributors.
These new I/OSpreader products can be applied to various applications such as industrial equipments, consumer electronics, mobile devices, and automotive equipments, providing simple wiring solution to switching cables and LED indicator controls. I/OSpreader can reduce the number of cables drastically up to one sixteenth and has higher-level noise tolerance, transmitting digital data from a few centimeters up to 100 meters. It makes internal cable alignments simplified, reducing required internal space for cables, saving cable weight and designing period as well as costs of cables and connectors.
THine has developed these new I/OSpreader products, using its accumulated high-speed interface technology, including V-by-one
®
HS, and know-how.
I/OSpreader technology converts parallel data with 16 cables to serial data with just a cable while, for example, electronic devices generally have each cable for each signal of data such as ON/OFF signals from switches, LED ON/OFF signals, controlling signals to motors, or those to speakers. In addition, I/OSpreader technology allows to transmit data with device address up to 16 devices simultaneously.
I/OSpreader can reduce the number of cables, corresponding to the needs of long-distance data transmission in industrial application. Moreover, it has achieved higher-level noise tolerance by built-in filters.
I/OSpreader technology is suitable for equipments that have constraints in internal space for cables with switches, LEDs, motors, and speakers as well as equipments with hinges or structures of the joint in transmitting data between print circuit boards. For instance, I/OSpreader technology is expected to be applied to various equipments such as machine visions, security cameras, control systems in buildings and vehicles, ticket vending machines, automated teller machines, point of sales machines, multi-function printers, multi-function phones, industrial machine tools, pumps, robotics, conveyers, endoscopes, amusement equipments, speakers, and consumer electronics. THine has inquiries from Asian potential customers.
THine plans to develop new products continuously, corresponding to further requests from the users of I/OSpreader technology and THCS133/134.
■Photo of THCS133/134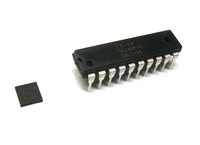 ■Features of THCS133/134
 ・
l No outside clock required because of input parallel data to registers from internal clocks
 ・
l Sampling frequency: 50Hz for unidirectional communication and 30Hz for bidirectional
communication
 ・
l Lineups with THCS134 packaged in QFN-20, supporting 16 bit signals and THCS133 packaged in
DIP-20, supporting 8bit signals.
TRADEMARKS All trademarks and registered trademarks are the property of their respective owners.