THine releases a new automotive surround view monitor technology


2015/05/15
TOKYO (May 15, 2015) – THine Electronics, Inc. (JASDAQ:6769), the global leader in high-speed serial interface and provider of mixed-signal LSI today announced its development of a new automotive surround view monitor technology with significant cost performance and faster display speed by THine's original algorithm of view point conversion.

The brand-new surround view monitor technology can reconfigure images captured by automotive cameras at vehicle sides into bird's-eye view images with low cost and faster display speed. Such view point conversion usually requires large-sized memories because such systems need temporary memories to save captured images before converting them to bird's-eye view images. THine has successfully developed new technology that can reduce the temporary memories drastically into one-fourth or one-third and, in addition, achieve fast image display with less delay from capturing to displaying. This new technology enables to extend the applicable vehicles of surround view monitor systems not only for luxury classes but also to light and intermediate models.

THine's new surround view monitor technology can simultaneously convert 1-channel camera to 4-channel cameras and, in the future, can extend more channels. THine plans to distribute working samples in 2016.

THine provides high-speed interface LSIs, timing controllers for full HD resolution, and high-resolution image signal processors for in-vehicle-infotainment markets. The brand-new surround view monitor technology, if used with THine's image signal processor THP7312 that supports infra-red images and defogging functions, can achieve significant visibilities in the night time and in the foggy weather. In addition, if used with THine's high-speed interface technology V-by-One® HS, the surround view monitor systems can reduce drastically the number of input and output cables for transmitting high-resolution digital pixel data. THine continues to deliver new values for automotive infotainment markets also with the new surround view monitor technology.
Demonstration of THine's new surround view monitor technology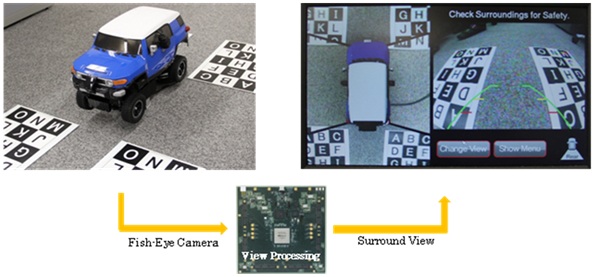 THine will exhibit this brand-new technology at 2015 Automotive Engineering Exposition from May 20
th
to May 22
nd
at Yokohama, Japan and offer additional value and solution for customers and automotive camera markets.
Wednesday, May 20 through Friday, May 22, 2015
Exhibition Hall, Pacifico Yokohama http://www.pacifico.co.jp/english/
Yokohama, Japan
Organized by Society of Automotive Engineers of Japan, Inc.
TRADEMARKS All trademarks and registered trademarks are the property of their respective owners.