THine releases one-pair solution for full-HD data transmission by new V-by-One®HS products


2015/04/27
TOKYO (April 27, 2015) – THine Electronics, Inc. (JASDAQ:6769), the global leader in high-speed serial interface and provider of mixed-signal LSI today announced its new 6 V-by-One
®
HS products, THCV231-Q/THCV231/THCV235-Q/THCV235/THCV236-Q/THCV236, allowing full-HD data transmission only by one-pair cable in various applications.
Three products with –Q are compliant to AEC-Q100, a widely accepted reliability testing specification of automotive integrated circuits, and ISO/TS16949 and can be applied to in-vehicle-infotainment application, reducing the number of internal cables. THine has started delivering the engineering samples and plans to start mass production from this second quarter toward automotive and industrial markets.
Recently, various applications for automotive display and camera systems have required full-HD resolution, resulting in increasing LSIs and complicated wiring for many cables. The new V-by-One
®
HS products can transmit full-HD data only by one-pair cables and, using 2 units, 4K data with 30 frames per second only by 2 pairs. Users can reduce system costs, expand designing options, and decrease noises by electro-magnetic interference. Also THine has established its higher quality management systems with adopting its failure mode effects analysis scheme and its statistic quality control software system, named "QuEST".
THine continues to offer customers' value added by optimal solutions with its innovative product portfolios.
■
Photos of THCV231-Q/THCV235-Q/THCV236-Q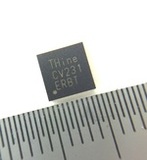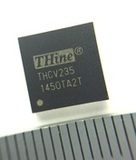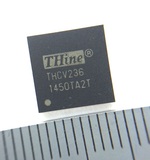 ■Key benefits of V-by-One® HS new products
 ・
V-by-One
®
HS Standard Version 1.4 compliant
 ・
AEC-Q100 compliant (Grade2: - 40°C ~ +105°C)
 ・
Wide bandwidth: 6MHz~160MHz
 ・
No external reference clocks required
 ・
Bridge function for one-pair serial interface
 ・
SSCG applicable for reducing EMI noise on data stream
 ・
Package: THCV231-Q/THCV231: QFN32 (5mm x 5mm),
     THCV235-Q/THCV235/THCV236-Q/THCV236: QFN64 (9mm x 9mm)
■Application
 ・In-veicle-infotainment systems, including automotive display system and camera system
 ・Surveillance cameras
 ・Document processing, multi-function printer


 ・Industrial equipments that require large data transmission such as pixel data,
etc.
TRADEMARKS All trademarks and registered trademarks are the property of their respective owners.