THine releases new LED drivers with LVDS that achieve higher-level noise tolerance high-speed and long-distance transmission


2015/04/22
TOKYO (April 22, 2015) -- THine Electronics, Inc. (JASDAQ: 6769), the global leader in high-speed serial interface and provider of mixed-signal LSI, today announced its mass production of new LED drivers with LVDS interface, THL3512 and THL3514.
Since THine has accumulated know-how in serial interface technology and power management technology, these new products have the serial interface of 2-pair LVDS lines (clock and data) and achieve higher-level noise tolerance, high-speed and long-distance transmission. THL3512 / 3514 can reduce the possibility of an incorrect action or improper LED lighting, expanding the transmitting distance. In addition, these new LED drivers have controlling function of gradation and are suitable for equipments with full-color LEDs such as amusement equipments, LED backlights, LED displays, LED decorative illumination, LED billboard lighting, and digital signage applications.
THL3512 has 24-channel open drain outputs. THL3514 has 24-channel constant current sink outputs and its constant current values for three output groups are determined by external resisters. Each of these new LED drivers has an embedded oscillator and PWM controller that individually generates 256-step brightness set by the dedicated registers for each channel. The LVDS allowing cascaded and multi-drop connection offers the maximum flexibility for designers to place and connect LED drivers. The simple and one-way communication protocol is easily-controlled and requires less CPU resources.
■Photo of THL3512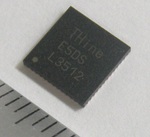 ■Features of THL3512 / 3514
< Driver part >
 ・Open-drain output: 24 channels (THL3512)
 ・Constant current output : 24 channel (THL3514)
 ・Output sink current: up to 100mA/ch (THL3512)
         40mA/ch (THL3514)
 ・Output voltage: up to 40V
 ・Individual brightness control: 256 steps
 ・Output disable / enable
< Serial interface part >
 ・2-pair serial LVDS input or 3-wire serial CMOS input: up to 10Mbps
 ・Bridge function converting 3-wire serial CMOS input to 2-pair serial LVDS output
 ・Repeater function of 2-pair serial LVDS input / output with waveform and timing correction
 ・Device address selection : up to 62 address
 ・General call to all devices
 ・Protection circuits: UVLO, short circuit protection, thermal shutdown
 ・Supply voltage: 3.0 ~ 5.5V
 ・Package: QFN 48-pin Exposed Pad
■Applicatoin
 ・Amusement
 ・LED Backlight
 ・LED display
 ・LED billboard lighting,
 ・Digital signage
 ・Illumination
TRADEMARKS All trademarks and registered trademarks are the property of their respective owners.