THine releases an industry-first motor driver with LVDS input/output


2014/12/25
-Achieving superior noise tolerance and simple wiring design in high-speed long-distance data transmission-



TOKYO (December 25, 2014) – THine Electronics, Inc. (JASDAQ: 6769), the global leader in high-speed serial interface and provider of mixed-signal LSI today announced an industry-first* motor driver product, THM3561, with input/output of LVDS or Low Voltage Differential Signaling. The sample of THM3561 will be available in January, 2015.
The new motor driver product, allowing differential signaling by LVDS input/output, is developed with THine's accumulated technology and know-how in high-speed serial interface. The new feature with LVDS input/output achieves superior noise tolerance and high-speed data transmission for long distance. Since THine has LED driver line-ups also with LVDS input/output, this brand-new motor driver can be used jointly with THine's LED drivers by cascade connection or multi-drop connection. Joint use of THine's motor driver and LED driver both with LVDS input/output enables to simplify internal interface of equipments and application systems.
Moreover, plural THM3561 products can be connected only by two pair cables and every control can be achieved. This feature also contributes to reduce the number of cables, wiring spaces, and costs, accelerating time-to-markets. For example, a cascade connection of THM3561 products in every 3 meters allows complicated controls of 30 motors with long-distance data transmission for approximately 100 meters only by two pair cables. The anticipated application is large machine tools, factory automation and robotics, large motor control systems for long-distance, motor drivers of robotics or humanoid robots such as those with 30 finger-joints of both hands.
THM3561 also has serial interface to transmit sensor output signals of position detection to controllers. Spread of Internet of Things or IoT brings numerous sensors and the new product THM3561 can drive motors according to the output signal from sensors, reducing the parts counts drastically and simplifying the systems.
In addition to driving motors, THM3561 can drive 4-channel electromechanical solenoids that move iron cores and convert electrical current into fast straight-line movement with greater force and quick response. THine's new solution with THM3561 enables to reduce the total number of cables for driving solenoids. It can be applied to various markets of consumer electronics, document processing, electromagnetic switches and relays, automatic vending machines, and other industrial equipments.
THine plans to develop new motor drivers and add the lineups according to the markets' requests, starting from the THM3561.
■Photo of THM3561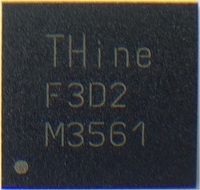 ■ Features of THM3561
< Motor driver part >
 ・
2-phase stepper motor driver
 ・
Unipolar motor driver by constant voltage
 ・
Output current with maximum 1.5A/phase at Tj = 25°C
 ・
Mode of phase input and clock input is selectable by setting pin
< Serial interface part >
 ・
Serial clock frequency: maximum 10Mbps
 ・
Single-end transmission and LVDS transmission is selectable
 ・
Repeater function of 3-pair serial LVDS with waveform shaping and timing correction
 ・
Device address selection up to 30 addresses
 ・
General call to all devices
 ・
Address setting available up to 30 devises
< Others >
 ・
UVLO, short circuit protection, thermal shutdown
 ・
Detection of over current and over heat
 ・
Supply voltage: 5V with internal regulator
 ・
Small package: QFN 48-pin (7mm x 7mm)
■Application
 ・
Amusement
 ・
Document processing and other office automation
 ・
Industrial equipment
 ・
Surveillance camera, machine vision, and robot vision
 ・
Robotics
 ・
Consumer electronics
*Based on THine's research as of the release date
TRADEMARKS
All trademarks and registered trademarks are the property of their respective owners.