THine releases an industry-first AEC-Q100 compliant dual-link LVDS for full HD


2014/12/22
- Supporting automotive infotainment and LCD instrument cluster with higher definition -
TOKYO (December 22, 2014) – THine Electronics, Inc. (JASDAQ: 6769), the global leader in high-speed serial interface and provider of mixed-signal LSI today announced an industry-first* AEC-Q100 compliant dual-link LVDS for full HD display panels, delivering its mass production from January, 2015. AEC-Q100 is a widely accepted reliability testing specification of automotive integrated circuits.
The new LVDS product is THC63LVD827-Q, supporting wide temperature from - 40°C to 105°C in order to be applied to various automotive LCD panels. This product converts pixel data of TTL signals out of application processors to LVDS signals and transmits to full HD LCD panels with high-speed performance. This dual-link LVDS supports the industry trend of using higher definition LCD panels in automotive infotainment, LCD instrument cluster, including speedometers, and digital instrument panels.
■Solution with the new Dual-Link LVDS, THC63LVD827-Q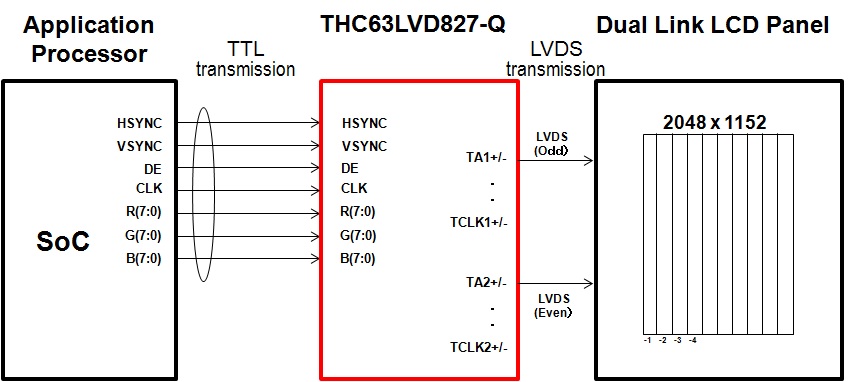 THC63LVD827-Q supports various resolutions such as XGA (1024 x 768), full HD (1920 x 1080), and WUXGA (1920 x 1200), and QWXGA (2048 x 1152) with the industry-lowest-level power consumption among dual-link LVDS for high definition medium-small LCD panels.
THine plans to deliver new products compliant with AEC-Q100, starting from this dual-link LVDS product, and offers valuable solutions for automotive markets.
■Photo of THC63LVD827-Q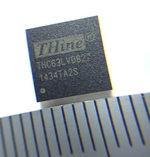 ■Key benefits of THC63LVD827-Q
 ・AEC-Q100 with capabilities for temperature Grade 2:
 ・
minimum - 40°C and maximum + 105°C
 ・Flexible Input / Output mode
  -Single TTL IN, Single / Dual LVDS OUT
  -Double edge Single TTL IN / Dual LVDS OUT
 ・Input clock triggering edge selectable by R/F pin
 ・
1080p / WUXGA / QWXGA with the highest-speed of 174MHz are supported.
 ・
Power consumption of typical 79.2mW, WUXGA@60Hz/24bit color
 ・
Small package of 7mm x 7mm / 72pin / TFBGA
 ・
1.8V single power supply is allowed when 1.8V CMOS input.
 ・
1.8V / 2.5V / 3.3V CMOS inputs are supported.
 ・
LVDS swing reducible to reduce both EMI and power consumption
 ・
Pin layout to simplify PCB layouts
 ・
Power down mode available
* Based on THine's research as of the release date
TRADEMARKS
All trademarks and registered trademarks are the property of their respective owners.