THine, collaborating with Advantest, has developed new testing technology for advanced high-speed interface


2014/09/30
TOKYO (September 30, 2014) – THine Electronics, Inc. (TSE: 6769), the global leader in high-speed serial interface and provider of mixed-signal LSI, today announced establishment of new testing technology for advanced high-speed interface by automatic test equipments.
THine's establishment of new testing technology enables to validate high-speed performance more easily by Advantest's automated test equipment (ATE), although usual high-speed interface requires complicated test configuration and significant resources including developing period. Developed by using THine's interface LSI with higher-speed than V-by-One
®
HS, this new testing technology can be applied not only to V-by-One
®
HS but also to more advanced high-speed interface with 10Gbps or higher-speed. It is expected to accelerate THine's research and development activities.
V-by-One
®
HS has spread rapidly to various markets, such as in-vehicle infotainment systems, multi-functional printers, and many industrial types of equipment. So far the tests for V-by-One
®
HS have required combining several testers and analyzers with transmitter LSIs (TX) and receiver LSIs (RX) to validate their actual performance.
Usual test configuration for the device under testing (DUT) of TX, for example, has required high-speed signal receiving function and reference device board as well. On the contrary, the new testing technology does not require reference devices and allow engineers complete testing high-speed signal performance much more easily by at-speed testing.
Specifically, the new testing technology makes characterizing of eye patterns, which show signal integrity, and jitter noise pattern for quality assurance more easily than ever. This technology, by applying to testing process in mass production, is expected to contribute high-speed quality assurance.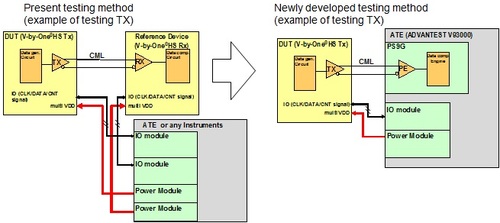 "Requests from our customers for testing information on V-by-One
®
HS technology have become more frequent," said Hans-Juergen Wagner, senior vice president, SoC Business Group at Advantest Corporation. "THine Electronics' investment in high-speed interface LSI technology has enabled them to deliver a solution that meets the performance and quality requirements of advanced high-speed interface testing."
"THine's V-by-One
®
HS technology has been applied widely in various markets and it is our great pleasure that Advantest, the global leader of testing technology, and THine have collaboratively established the testing technology with excellent quality level and significant efficiency in mass production by at-speed automatic testers," commented Mr. Kazutaka Nogami, President and CEO of THine. "This testing technology is expected to expand the applicable markets to more quality sensitive markets such as automotive and industrial markets and LSI suppliers will be able to establish quality management systems more promptly not only in consumer electronics markets but also in automotive and industrial markets. Furthermore, THine can accelerate new development of advanced higher-speed interface technology."
A world-class technology company, Advantest is the leading producer of automatic test equipment (ATE) for the semiconductor industry and a premier manufacturer of measuring instruments used in the design and production of electronic instruments and systems. Its leading-edge systems and products are integrated into the most advanced semiconductor production lines in the world. The company also focuses on R&D for emerging markets that benefit from advancements in nanotech and terahertz technologies, and has introduced multi-vision metrology scanning electron microscopes essential to photomask manufacturing, as well as a groundbreaking 3D imaging and analysis tool. Founded in Tokyo in 1954, Advantest established its first subsidiary in 1982, in the USA, and now has subsidiaries worldwide. More information is available at
www.advantest.com
.
TRADEMARKS
All trademarks and registered trademarks are the property of their respective owners.