THine's new ISP has been adopted in Midong Electronics' new drive recorder with functions of Advanced Driver Assistance Systems.


2014/06/30
TOKYO (June 30, 2014) -- THine Electronics, Inc. (JASDAQ: 6769), the global leader in high-speed serial interface and provider of mixed-signal LSI, today announced a superior cost-performance image signal processor (ISP) product, THP7312, has been adopted in Urive Albatross3 of Midong Electronics & Telecommunication Co, Ltd. in Korea, that is already available. This new product has functions of Advanced Driver Assistance Systems (ADAS) such as lane-departure warning system and collision warning system, and voice-recognition system. THP7312 has contributed, toward Albatross3, high quality of images of full-HD, high-speed of 30fps, and sophisticated shooting of dynamic picture image, including an auto-defogging function. Midong Electronics plans to add function of pedestrian recognition system at the third quarter, 2014. In the future, it plans to add driver drowsiness warning system.
THP7312 is developed to realize higher resolution and more complicated image signal processing for in-vehicle cameras, drive recorders, security cameras, etc. THP7312 can generate superior quality images for each CMOS image sensor. Moreover, THP7312 have a wide dynamic range function. It has superior performance in images that have both dark side pixels and bright side ones, avoiding over and under exposure. The HDR function can be effective even in capturing movie images to enjoy them by full-HD televisions. In addition, THP7312 can record automatically compensated images in night scene with oncoming vehicles' high-beam lights, also avoiding over and under exposure.
■Photo of the new ISP, THP7312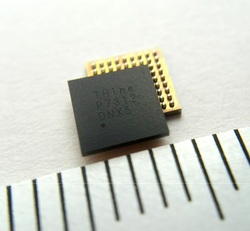 ■Features of THP7312
・High-speed image signal processing by dedicated hardware engine
・Support optical image stabilizing function, movie image stabilizer,
real-time HDR, JPEG encoding, and RGB-IR
・Flexible processing by 32bit RISC MPU
・Simultaneous capturing of still images and movie images by triple scalers, including super-resolution
processing
・Customizable firmware for customer's request
・Various camera control functions, including auto focus, auto exposure, and auto white balance
・Small package: WLCSP81 (3.9mm x 3.9mm x 0.61mm, 0.4mm pitch)
・Package for automotive and security application: BGA 8mm x 8mm x 1.1mm, 0.8mm pitch
(BGA 7mm x 7mm x 1.1mm, 0.65mm pitch is planned as well)
TRADEMARKS
All trademarks and registered trademarks are the property of their respective owners.