THine releases a superior cost-performance ISP for 16-mega-pixel cameras with outstanding wide dynamic range and defogging function


2014/05/16
TOKYO (May 16, 2014) -- THine Electronics, Inc. (JASDAQ: 6769), the global leader in high-speed serial interface and provider of mixed-signal LSI, today announced a superior cost-performance image signal processor (ISP) product, THP7312, for 16-mega-pixel cameras with outstanding wide dynamic range and defogging function. THine has started delivering this new product.
THine will exhibit this new ISP technology at the 2014 Automotive Engineering Exposition, running May 21–23 at the Pacifico Yokohama, as well as other solutions with its high-speed serial interface technology, V-by-One
®
HS, and its timing controller solution for in-vehicle infotainment.
The new ISP, THP7312, is developed to realize higher resolution and more complicated image signal processing for cameras used in smart phones, in-vehicle cameras, drive recorders, security cameras, etc. THP7312 can generate superior quality images for each CMOS image sensor, since THine has collaborated with major CMOS sensor makers for a long time.
THP7312 offers rich image signal processing functions and camera functions by THine's original technologies such as movie image stabilizer function and simultaneous capturing of still images and movie images. These rich functions are achieved by internal LSI hardware without outside software and frame memories of DRAM that have been generally used but required costs and power consumption. Because of no frame memories, THP7312 realizes small size, lower power consumption, and higher speed, offering suitable performance and features for battery-operated handsets and equipments.
Moreover, THP7312 have a wide dynamic range (WDR) function. It has superior performance in images that have both dark side pixels and bright side ones, avoiding over and under exposure. The HDR function can be effective even in capturing movie images to enjoy them by full HD televisions. In addition, THP7312 can record automatically compensated images in night scene with oncoming vehicles' high-beam lights, also avoiding over and under exposure.
The new THP7312 supports not only visible rays of RGB or red, green, and blue, but also an infra-red (IR) ray. Because of this new feature, THP7312 can offer additional performance for such applications as health-care or beauty-care application for smart phones, drive recorders in night scene, or security cameras that require gesture recognition or pattern recognition under insufficient light environment. Image signal processing of IR rays is also expected to improve security levels by introducing vain recognition or eye recognition.
THine offers new values to customers in smart phone, automotive, and security markets, supporting flexibly in hardware and software. THine's firmware supports can be available flexibly. For example, THine offers an auto-defogging image function for drive recorder customers to read and save the front vehicles' number plate more clearly in PM2.5 or fogging environment. Also outside security camera applications are also expected.
THine plans to deliver the value added by this new ISP to wide markets of smart phones, in-vehicle cameras, drive recorders, security cameras, network cameras, and sports cameras.

■Photo of the new ISP, THP7312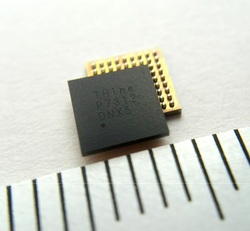 ■Features of THP7312
・High-speed image signal processing by dedicated hardware engine
・Support optical image stabilizing function, movie image stabilizer, real-time HDR, JPEG encoding, and RGB-IR
・Flexible processing by 32bit RISC MPU
・Simultaneous capturing of still images and movie images by triple scalers, including super-resolution processing
・Various camera control functions, including auto focus, auto exposure, and auto white balance
・Customizable firmware for customer's request
・Small package: WLCSP81 (3.9mm x 3.9mm x 0.61mm, 0.4mm pitch)
・Package for automotive and security application:BGA 8mm x 8mm x 1.1mm, 0.8mm pitch                           (BGA 7mm x 7mm x 1.1mm, 0.65mm pitch is planned as well)
TRADEMARKS
All trademarks and registered trademarks are the property of their respective owners.