THine releases timing controllers for automotive and industrial applications


2014/03/26
TOKYO (March 26, 2013) -- THine Electronics, Inc. (JASDAQ: 6769), the global leader in high-speed serial interface and provider of mixed-signal LSI, today announced its new timing controllers (TCONs), THF9801 and THF9802, for automotive and industrial applications with a new high-speed LCD driver technology, "eDriCon" for full HD resolution panels. THine plans to start mass production from the 2nd quarter, 2014.
THine's new TCONs, THF9801/THF9802 are suitable for automotive and industrial applications that require quality management systems, such as wide temperature assurance. THine starts sales and marketing activities internationally in order to be applied in wide applications such as car navigation, automotive monitors, car room mirrors, industrial monitors.
Automotive LCD panels recently require higher resolution of full HD (1920 x 1080) with the technical trend of more resolution while it used to be WVGA (800 x 480) generally. THine, based-on its accumulated technologies and know-how in high-speed interfaces, has developed and introduced these new TCONs. These TCONs include THine's innovative high-speed LCD driver interface, eDriCon, for customers seeking Full HD solution, applying THine's know-how in high-speed serial interface technology.
eDriCon can reduce the number of cables one seventh of generally required cables. For example, general Full HD applications with eDriCon can transmit pixel data only with 4-pair cables while those with usual interfaces require 28 pairs. eDriCon's high-speed performance can reduce the system costs and required space for data transmissions inside of equipments. THine has achieved eDriCon technology with transmitting embedded clock data on pixel data lines.
■Image of THF9801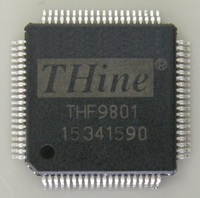 ■Features of THF9801/THF9802
Input I/F: eDP 2lane (THF9801) / LVDS 2ch (THF9802)
 Output I/F: RSDS / mini-LVDS / eDriCon
 Resolution: WVGA ~ WUXGA
 Temperature: -40℃ ~ 105℃
TRADEMARKS
All other company or product names are the registered trademarks or trademarks of their respective owner.