THine releases a new LVDS for full-HD security cameras and industrial applications with optimized cost-performance


2013/11/15
TOKYO (November 15, 2013) – THine Electronics, Inc. (JASDAQ: 6769), the global leader in high-speed serial interface and provider of mixed-signal LSI today announced a new LVDS (low voltage differential signaling), THC63LVD1022, for security cameras and industrial applications such as medical monitors that require transmission of full-HD pixel data. The new product is available today.
This brand-new product, THC63LVD1022, has been developed through THine's accumulated LVDS technology based on its long-term experiences in high-definition displays. Security camera markets and network camera markets have recently required full-HD performance for such purpose as identifying some specific targets as well as increasing new demands and replacement in worldwide, including China, US, and Europe, while standard definition cameras still have a certain portion in the current usage. Along such trend, the portion of mega-pixel cameras has been increasing and is expected to soar.
In order to support camera markets, THine has supplied LVDS products, such as THC63LVD827 and THC63LVD1024 for 2.0-mega-pixel HD camera markets as well as THC63LVDM87 and THC63LVDF84B for 1.3 mega-pixel markets. THine's new line-ups including THC63LVD1022 support almost all required LVDS required by mega-pixel camera markets.
Furthermore, medical monitor markets and projector markets that use many LVDS have recently increased the demand for higher definition such as 4K2K and THine has developed the new LVDS to support such medical and industrial requirements of higher-definition as well. The new LVDS is superior in cost-performance, reducing relating footprints approximately half of the existing solution with 144pin LQFP package.
■Photo of THC63LVD1022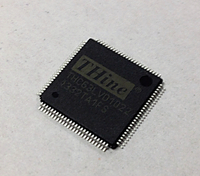 ■Features of THC63LVD1022
 ・ LVDS dual pixel link input / TTL CMOS single link output conversion
 ・ 30 bit per a pixel, supporting 1.07 billion colors
 ・ Supporting wide frequency: 20 Mpps (mega-pixel per second) ~ 150Mpps
 ・ Pinout swap feature for flexible PCB layout
 ・ 100pin TQFP package
 ・ 3.3V single power voltage supply
 ・ Environmental laws and regulations compliance (ex. EU RoHS)
■Application
 ・ Security cameras and industrial cameras
 ・ Medical monitors
 ・ Projectors
 ・ Copying machines and multi-function printers
 ・ Set top boxes (STB)
TRADEMARKS
All other company or product names are the registered trademarks or trademarks of their respective owner.