THine Starts its Solution Business for Small Medium LCD Markets


2013/10/11
TOKYO (October 11, 2013) -- THine Electronics, Inc. (JASDAQ: 6769), the global leader in high-speed serial interface and provider of mixed-signal LSI, today announced its solution business for small medium LCD panels with its timing controllers (TCON), power management LSIs, and LED drivers for automotive, tablet, and industrial markets.

THine has offered values with high performance and low cost solution with its high-speed interface and related technologies, for instance, offering to reduce the number of cables and connectors by V-by-One® HS in FHD television markets. Such demands for higher resolution and faster response speed of LCD panels have spread also in small medium LCD markets that often require additional TCON on their print circuit boards (PCB) to control LCD. Since such PCBs also have power management LSIs and LED drivers as well as TCON has started offering optimal solutions for such customers' LCD specification.

In addition to release new line-ups of five LED drivers, THine has added new five power management LSIs, THV6511, THV6520, THV6530, THV6531, and THV6540 for small medium LCD markets. TVH6511 and THV6520 supply optimal voltage to source drivers of LCD. THV6530 and THV6531 can supply VCOM for inverting voltage to avoid burns of LCD as well as supplying optimal voltage to source drivers and gate drivers. THV6540 includes the function of LED driver with supplying optimal voltage to source drivers and gate drivers.

THine plans to expand its solution business to automotive, amusement, tablet PCs, notebook PCs, printers, industrial, and wider application markets.

■Features of THV65-series (for more detail)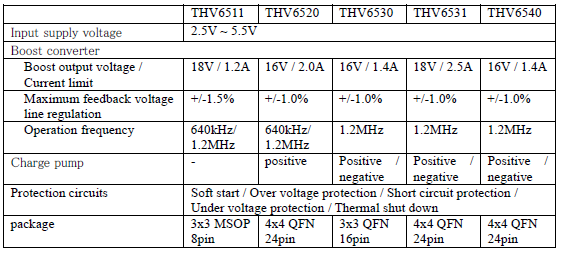 ■THine's Total Solution for Small Medium LCD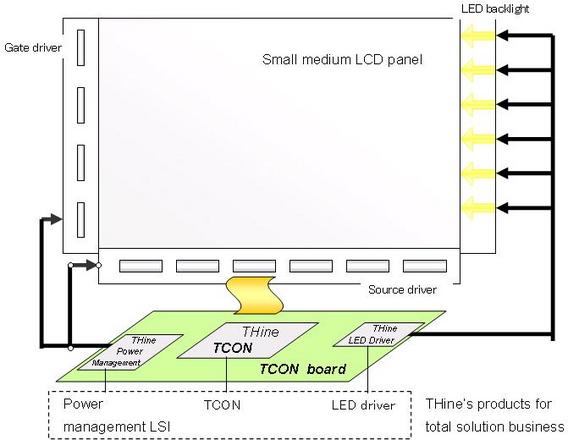 TRADEMARKS
All trademarks and registered trademarks are the property of their respective owners.