THine releases the industry-fastest LVDS transmitter for tablet PCs with the lowest power consumption


2011/06/27
TOKYO (June 27, 2011) – THine Electronics, Inc. (JASDAQ: 6769), the global leader in high-speed serial interface and provider of mixed-signal LSI for flat panel displays and mobile phones, announced today that THine has developed the industry-fastest LVDS transmitter for tablet PC and mobile appliances with the lowest power consumption and has started distributing the engineering samples in June.
The newly developed product, THC63LVDM83E, is suitable for mobile applications such as tablet PCs, notebook PCs, and digital still cameras, including single-lens reflex cameras, with the important features of the lowest-level energy consumption, the highest-speed, and the smallest-level fingerprint. Especially, THC63LVDM83E reduces the energy consumption by one third of existing similar products for mobile applications and can contribute to make the batteries long lasting.
Application markets of tablet PCs are expanding widely not only to notebook PCs and media players but also to game devices, medical electronics, and factory automation area, expected to bring sophisticated user experience. The new LVDS transmitter responds to such needs by achieving the speed of operating frequency by 20% faster than existing similar products. Users of THC63LVDM83E can achieve excellent user experiences with the high resolution LCD panels of WUXGA (1920 x 1200) as well as those of XGA (1024 x 768) and WXGA (1280 x 800) more easily. In addition, the new LVDS can ease the complex cable wiring and reduce the EMI noise in small-sized LCD panels, including digital reflex cameras with vari-angle LCD monitors by its small package and the lowest-level energy consumption.
THine is developing additional strategic LVDS products for tablet PC markets and mobile markets with drastic energy-saving features and other differentiated advantages for customers by its original technologies.
■Photo of THC63LVDM83E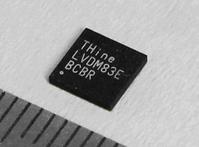 ■Features of THC63LVDM83E
 • Suitable data inputs tolerant to connect directly to low power, low voltage application and graphic processor
 • Wide dot clock range: 8-160MHz suited for QVGA (320 x 249) ~ WUXGA (1920 x 1200)
 • On chip jitter filtering
 • Clock edge selectable
 • Supports reduced swing LVDS for low EMI
 • Power down mode
 • PLL requires no external components
 • Low power single 3.3V CMOS design
 • Small package of 5mm x 5mm
TRADEMARKS
All other company or product names are the registered trademarks or trademarks of their respective owner.