THine Announces Industry's fastest and smallest ISP for smart phones with 13-mega-pixel cameras


2011/11/07
TOKYO (November 7, 2011) -- THine Electronics, Inc. (JASDAQ: 6769, "THine"), the global leader in high-speed serial interface and provider of mixed-signal LSI, today announces industry's fastest-level and smallest* image signal processor (ISP) product, THP7212, for smart phones with 13-mega-pixel cameras.

Corresponding to the market trends of smart phone cameras toward higher resolution, the new ISP products achieve as high resolution and quality as compact DSC by the world fastest-level throughput performance of resolution and frame rates. THP7212 enhances rich image signal processing functions and camera functions by THine's original technologies not only with features of auto focus, auto white balance, and auto exposures, but also with hardware-based functions of face detection, effective dark area correction, movie image stabilizer, 2D to 3D conversion.
These rich functions are achieved high-speed processing by internal LSI hardware and THP 7212 brings its users chances for perfect shot with startup time of 90 milliseconds.
The new ISP product adopts a wafer level chip size package (WLCSP) of the industry's smallest 3.8 mm x 3.8 mm and is miniaturized to one-fourth of the existing 13-mega- pixel ISP size.
In addition to the fastest speed and smallest size, THine's original technology has succeeded in removing expensive internal frame memories that are generally required for movie image stabilizer functions and enables smart phones to reduce the energy consumption and costs significantly. THP7212 is expected to be in volume production from the first quarter in 2012.
THine plans to expand its ISP businesses, promoting new products for global smart phone markets, bringing new value for customers of security cameras, embedded cameras for advanced safety vehicles, and amusement, using its synergy effects among image signal processing and high-speed interface.
■Photo of the new ISP, THP7212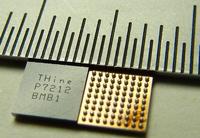 ■Features of THP7212
・Sensor correction
black level correction by color, defect pixel correction (consecution defects), lens shading correction, demosaicing, static dust correction
・Adaptive image signal processing
noise reduction, edge enhancement, multi axis color correction, Gamma correction, dark area correction, memory color correction
Auto functions
・auto exposure, auto focus (multi point, continuous), auto white balance, auto flicker cancel, auto strobe light dimmer, auto scene detection
・Image processing
hardware face detection, hardware movie image stabilizer, dual PLL, JPEG (SpeedTagsTM), digital zoom, resize, Horizontal mirror, hardware 2D to 3D conversion, special effects, peripheral control, LED flash, Xenon flash
・Firmware
customizable firmware
・Package
small WLCSP 81 pins (3.8mm x 3.8mm x 0.61mm)
* based on THine's research in ISP products for smart phone markets in volume production as of the release date
TRADEMARKS
All other company or product names are the registered trademarks or trademarks of their respective owner.