THine releases new V-by-One®HS products for office and industrial use


2012/03/06
Tokyo (March 6, 2012) – THine Electronics, Inc. (JASDAQ:6769), the global leader in high-speed serial interface and provider of mixed-signal LSI for flat panel displays and mobile phones, announced today that THine releases its new products of high-speed serial interface with V-by-One®HS technology, THCV219 and THCV220, for office automation appliances and industrial equipments. V-by-One®HS technology, developed by THine and established as de facto standard of the advanced internal interface of televisions, can provide solutions of high-speed data transmission in noisy circumstances within office automation appliances and industrial equipments. These new products are in mass production today.

THCV219 and THCV220 are suitable for internal interfaces of many types of equipment, such as multi-function printers, industrial cameras, security cameras, amusement equipments, medical electronics, and automotive infotainment. Especially, office and industrial equipment markets require universal designs, reducing its part counts of cables and connectors, transmitting high-speed data for longer distance, improving noise-proof features, and downsizing of movable modules. The new products with V-by-One®HS technology bring low-cost solutions for these technical requirements with just one pair of cables in spite of the requirements of higher resolution and more colors while other products find difficulties to offer right solutions.

THine plans to deliver value added such as higher-speed, smaller footprints, lower costs, more noise-proof, longer transmission not only for television markets but various markets that requires large data transmissions.

■ Photo of THCV219/THCV220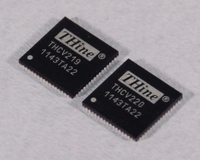 ■ Key features of THCV219/THCV220
 - V-by-One®HS data transmission
 - Reciprocal conversion between CMOS parallel and V-by-One®HS
 - Color depth mode: 32bit/24bit
 - Pixel clock frequency: Max. 100MHz
 - Connectivity between THCV233/THCV234 that can convert high-speed data between LVDS and V-by-One®HS
 - Functions of signal conditioning
 - Test pattern generator and checker function available for evaluating transmitting lanes
 - Small package: 9 mm × 9 mm QFN 64 pins

■ Application
 - Multi-function printers
 - Security cameras
 - Industrial cameras
 - Amusement equipments
 - Automotive infotainment, rear and/or side view cameras, and drive recorders
 - Medical electronics with sub-monitors, etc.
TRADEMARKS
All other company or product names are the registered trademarks or trademarks of their respective owner.