Sharp's Network Camera adopts THine's 16-Megapixel high-speed ISP


2016/09/07
TOKYO (September 7, 2016) – THine Electronics, Inc. (JASDAQ: 6769), the global leader in high-speed serial interface and provider of mixed-signal LSI today announced that Sharp Corporation's network camera, QG-B20C, with 4K3K high-definition images and high sensitivity adopts THine's 16-Megapixel high-speed image signal processor (ISP), THP7312.

Sharp's QG-B20C has significant features with 12-Megapixel CMOS image sensor with achieving high-definition of 4K3K (4064x3048 pixels with max.15fps) and high-sensitivity image capture that enables high-resolution omnidirectional surveillance. The camera's wireless-LAN connectivity (IEEE802.11a/b/g/n/ac compliant) without the need for LAN cabling opens up a wide uses of high-definition images easily. Furthermore, it also includes in-camera image analysis functions that make surveillance performance efficient and achieve various services and solutions.

THP7312 has been adopted in drive recorders with ADAS functions and smart phones in Japan, U.S., China, and Korea with its high-speed performance and rich functions for cameras. Achieving various COMS image sensors' potential qualities, THP7312 has superior features that support increasing requests for ISP with higher-definitions in surveillance, automotive, smart phones, and smart consumer electronics. Moreover, THine's high-dynamic-range technology mitigates blown-out-highlights and blocked-up-shadows, avoiding over and under exposure.

THine will continuously contribute customers' advantages with new value added by its ISP and high-speed interface technologies.


High-speed image signal processing by dedicated hardware engine

Support optical image stabilizing function, movie image stabilizer,
real-time HDR, RGB-IR support

Flexible processing by 32bit RISC MPU

Simultaneous capturing of still images and movie images by triple scalers, including super-resolution processing

Various camera control functions, including auto focus, auto exposure, and auto white balance

Customizable firmware for customer's request

Small package: WLCSP81pin (3.9mm x 3.9mm) and BGA81pin (8mm x 8mm)

Photo of THP7312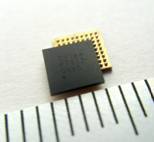 TRADEMARKS All trademarks and registered trademarks are the property of their respective owners.