THine's 13-megapixel ISP is adopted to German automaker's drive recorders


2016/08/30
TOKYO (August 30, 2016) -- THine Electronics, Inc. (JASDAQ: 6769), the global leader in high-speed serial interface and provider of image signal processors and mixed-signal LSI, today announced THine's image signal processor (ISP) product, THP7212, is adopted to German automaker's drive recorders as dealer options.

THP7212 offers rich image signal processing functions and camera functions by THine's original technologies, achieving significant cost-performance. In addition, THP7212 has high resolution of 13-megapixel quality with major auto functions such as auto focus, auto exposure, and auto white balance as well as movie image stabilizer function and superior performance in images with both dark side pixel and bright side ones, avoiding over and under exposure. These rich functions are achieved by internal LSI hardware.

This ISP product achieves the suitable full-HD movie quality by superior image tuning functions in the automotive unique environment. THP7212 enables to record suitable image quality in driving and to capture clear images of car license plates and signal lamps as evidences in accidents. Moreover, it allows recording in parking with low power consumption and low illumination.

THine will continuously contribute customers' advantages with new value added by its image signal processing and high-speed interface technologies.

■ Features of THP7212
* High-speed image signal processing by dedicated hardware engine
* Support optical image stabilizing function, movie image stabilizer, Jpeg encode
* Flexible processing by 32bit RISC MPU
* Input: MIPI CSI2 850Mbps 2port (4 lanes + 2 lanes), Output: 1port (4 lanes)
* Various camera control functions, including auto focus, auto exposure, and auto white balance
* Customizable firmware for customer's request

■ Photo of THP7212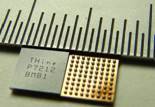 THine Electronics Incorporated is a fabless maker that provides innovative mixed signal LSI and analog technologies such as V-by-One®HS, LVDS, other high-speed data signaling, timing controller, analog-to-digital converter, ISP, power management and drivers for LEDs and motors in growing niche markets for our customers' solutions, targeting its strategic markets in flat screen TVs, smart phones, document processing, amusement, industrial application, and automotive markets. THine is headquartered in Tokyo, and has subsidiaries in Taipei, Seoul, Hong Kong, Shenzhen, and Shanghai. THine Electronics is listed on JASDAQ of Tokyo Stock Exchange under the security code of 6769. For more information, please visit www.thine.co.jp/en/.
TRADEMARKS All trademarks and registered trademarks are the property of their respective owners.