Zhicheauto adopts THine's V-by-One®HS to its intelligent EV project


2016/03/23
TOKYO (March 23, 2016) -- THine Electronics, Inc. (Tokyo Stock Exchange/JASDAQ: 6769), the global leader in high-speed serial interface and provider of mixed-signal LSI, today announced that Chinese car maker Zhicheauto has adopted THine's brand-new V-by-One
®
HS solution to its intelligent electric-vehicle (EV) project and assigned it as a core supplier of this development project.
Zhicheauto's project developing its intelligent EV, "Ji Dian (Singularity) Vehicle," aims to complete its model in 2017. Zhicheauto plans to introduce an innovative new value from human brains and artificial intelligence by the intelligent EV. Simultaneously, it aims to integrate the mechanical functions and intelligent ones in order to expand the possibility of driving drastically with IoT systems. Such excellent intelligent EV project of "Ji Dian (Singularity) Vehicle" has adopted THine's automotive interface solution with THCV235-Q, THCV236-Q, and THC63LVD827-Q. Each of THine's products adopted by Zhicheauto has the industry-first features with innovative added value.
THCV235-Q and THCV236-Q are the newest V-by-One
®
HS products that can transmit full-HD images by just one pair cable with automotive quality compliant to AEC-Q100 (Grade 2). THine's high-speed interface product, THC63LVD827-Q, is also the industry-first AEC-Q100 compliant (Grade 2) dual-link LVDS for full-HD. THine's valuable interface products support the high-speed data transmission of automotive clusters and center information displays (CIDs) of the intelligent EV.
The intelligent system of "Ji Dian (Singularity) Vehicle" can control all the car by 24-hour online systems and continuous over-the-air software upgrades, and understand the drivers' situation like a car-wheeled robot with a smart brain that communicates seamlessly between "the car and cars", "the car and people", and "the car and roads.
Zhicheauto develops its original security systems for "Ji Dian (Singularity) Vehicle" with passive safety for outside-vehicle conditions of climates and roads, active safety with ADAS and night view systems, and network security.
■The cluster and CID of Zhicheauto's Intelligent EV "Ji Dian (Singularity) Vehicle"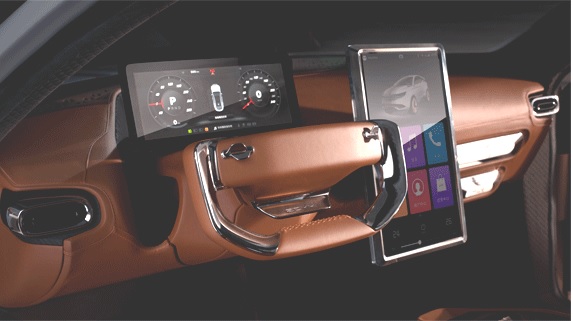 (photo by Zhicheauto)
TRADEMARKS All trademarks and registered trademarks are the property of their respective owners. Note: This material is translated from the original document and for reference use only.