HOME >
Challenging an issue of fabless semiconductor companies – Quality control of automotive products
Enthusiastic THine employees' columns, stories, and excellent
solutions welcomed by many customers.
Production Column
Challenging an issue of fabless semiconductor companies – Quality control of automotive products
For fabless makers, which outsource the manufacturing process, quality control of the manufacturing processes is one of the important issues they face. We at THine Electronics have pursued the best quality control methods to guarantee excellent quality and improve customer satisfaction, and our commitment has led to the development of our unique system that monitors the manufacturing process -- QuEST (Quality Enhancement with Statistical Tool). We asked Mr. Naoki Fukamachi and Mr. Tomoyasu Sada, a member of the Production Department, about the story behind the release of the tool.
Necessity for quicker customer service and better product quality triggered the development
The advantages of a fabless maker are that we can, by outsourcing production, concentrate our management resources on planning and development and use the high-level technology, equipment, and personnel owned by external partners. However, we had an issue of how to secure high quality for our products while utilizing these advantages of the fabless system. To solve the issue, we needed a system that could monitor details of the manufacturing processes at our subcontractors to enable us, when a problem occurs, to analyze data and identify a cause and inform our customers.
Mr. Fukamachi said, "After establishing the business model of a fabless maker, we won trust among customers for our steady quality control. But actually, behind this, we had to go through a voluminous load of manual tasks."
When Mr. Sada joined THine Electronics in 2010, a number of troubles were increasing as sales went up, causing employees to spend a lot of time on tasks manually.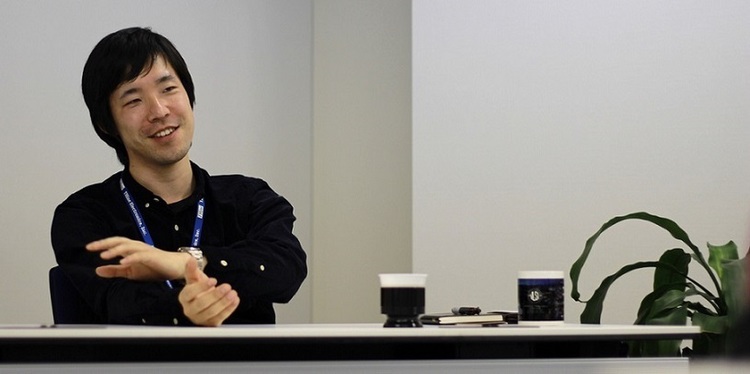 He said, "Before I joined THine, I had already known that each foundry had a management system to accumulate data for each process, so I was surprised to know we had to perform a lot of manual tasks for data management when I joined. At that time, THine manufactured many products at a number of subcontractors' foundries, so we tried to make our work as efficient as possible. Still, I felt a sense of crisis about the fact that we had to spend many hours on data management."
After Mr. Sada and Mr. Fukamachi were assigned to the same group in the Quality Control Department in 2011, the development of QuEST accelerated.
Mr. Sada, looking back at that time, continued to say, "I came up with an idea – if we store data sent from our subcontractors in a dedicated server and make a quality control tool through which we can easily make graphs, we can upgrade the level of our customer service and product quality. I can say now that this idea opened the path to the development of QuEST.
QuEST evolved through application to automotive products
Mr. Sada and Mr. Fukamachi had no knowledge about database when they started the development and it took them almost one year to internally release QuEST. After that, they consistently tried to emphasize the importance of QuEST throughout the company at every opportunity by providing success examples for consideration.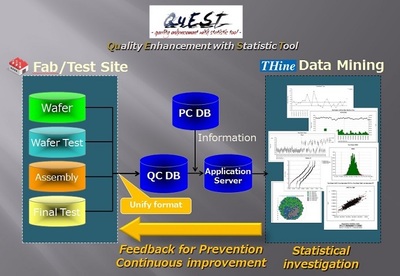 They had a turning point in 2013 when Mr. Kazutaka Nogami became President and CEO. He announced that automotive products should be focused on through company-wide efforts. The new policy gave a boost to their development project.
Mr. Sada said, "We were confident that this quality control tool would no doubt make contributions to manufacturing automotive products for which high trust, long-time data storage, and quick response to customers are required. If we failed to identify a cause of trouble that occurred at a customer, we would lose its trust, but with QuEST, the time to determine a cause is most likely to be short and the risk should be greatly mitigated."
With a satisfied look, Mr. Fukamachi said, "The preconceived idea that 'Fabless companies leave quality control in the manufacturing process entirely up to subcontractors' is being overthrown."
QuEST started with the aim of strengthening customer services and the management system. When it was applied to manufacturing automotive products, QuEST steadily increased its presence and even contributed to delivering added-value to us as a fabless company.
"Not yet completed!" – The development still continues
After its internal release, new functions have been added to QuEST. Meanwhile, it had increasing opportunities to be shown externally; it was introduced in information exchange meetings with other companies and presented at IEEE (Institute of Electrical and Electronics Engineers) in April 2016.
Mr. Fukamachi said, "Our main job is design, so we had few opportunities to care about yield or stability in the manufacturing process, but after the release of QuEST, all employees have become aware of the importance of manufacturing management."
Nodding to his comment, Mr. Sada continued, "As the key to QuEST is the accurate data subcontractors send us every day, we greatly appreciate their cooperation. Based on the data they send, we create data analyses to share with subcontractors. Through this effort, we successfully reduce variation in quality and achieve stable quality and steady supply. In addition, taking advantage of the time that the new tool spares us, we can give more detailed explanations to customers and develop new products, and this enhances customer satisfaction."
However, both gentlemen have the same opinion that QuEST will never be completed.
Mr. Sada said, "We have made the tool more efficient from an engineering point of view by reducing man-hours spent on data gathering and graph making. We have also added new functions such as monthly summary from a management point of view. We would like to add as many functions as possible if requested."
They happily remarked that recently they increasingly receive comments from customers that an activity to introduce a system like QuEST deserves trust.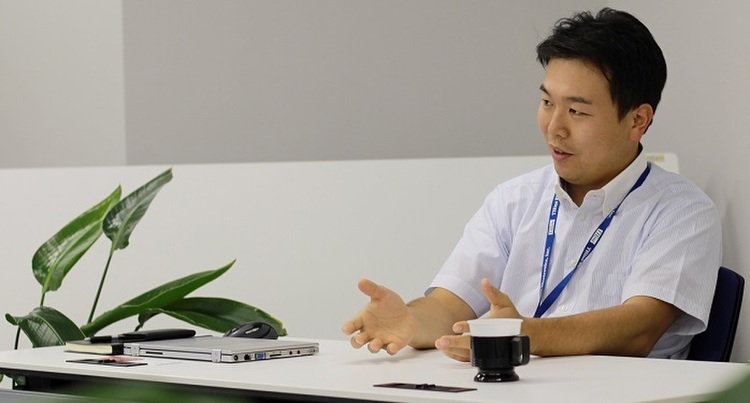 Mr. Fukamachi said, "We will continue to improve QuEST in the hope that because we have QuEST, we will receive positive evaluations from all customers who use our products.
End.
__RCMS_CONTENT_BOUNDARY____RCMS_CONTENT_BOUNDARY____RCMS_CONTENT_BOUNDARY____RCMS_CONTENT_BOUNDARY____RCMS_CONTENT_BOUNDARY____RCMS_CONTENT_BOUNDARY____RCMS_CONTENT_BOUNDARY____RCMS_CONTENT_BOUNDARY____RCMS_CONTENT_BOUNDARY__
__RCMS_CONTENT_BOUNDARY____RCMS_CONTENT_BOUNDARY____RCMS_CONTENT_BOUNDARY____RCMS_CONTENT_BOUNDARY____RCMS_CONTENT_BOUNDARY____RCMS_CONTENT_BOUNDARY____RCMS_CONTENT_BOUNDARY____RCMS_CONTENT_BOUNDARY____RCMS_CONTENT_BOUNDARY__
__RCMS_CONTENT_BOUNDARY____RCMS_CONTENT_BOUNDARY____RCMS_CONTENT_BOUNDARY____RCMS_CONTENT_BOUNDARY____RCMS_CONTENT_BOUNDARY____RCMS_CONTENT_BOUNDARY____RCMS_CONTENT_BOUNDARY____RCMS_CONTENT_BOUNDARY____RCMS_CONTENT_BOUNDARY__