HOME >
The Enthusiasm of the Product Planning Department Made the Entry to the Power Module Market Successful through Combined Strengths
Enthusiastic THine employees' columns, stories, and excellent
solutions welcomed by many customers.
Planning Column
The Enthusiasm of the Product Planning Department Made the Entry to the Power Module Market Successful through Combined Strengths
The recent evolution of semiconductor process technology has opened new horizons. One of them is the dramatic improvement in the logic performance and the integration density of LSI including FPGA, and consequently, better performance and higher integration density have become the norm. However, it has become necessary for system designers to consider different requirements for voltage rails, voltage levels, and current flow for each function block or circuit. With LSI power supply requirements becoming more complicated, THine Electronics, albeit a latecomer, developed our first power module in February 2016 by investing time and personnel, and successfully entered the market. How did the team perceive its prospect of success? Takayuki Mizutori of the Product Planning Department talked about how a latecomer achieved the entry with what strategies.
Achieve modularization, bringing "LSI evolution" into view
The power module THV81800 is the product we are confident about, for which we spent as long as three years from planning to market launch. Mr. Mizutori of the Product Planning Department said as follows about the market background and our objective: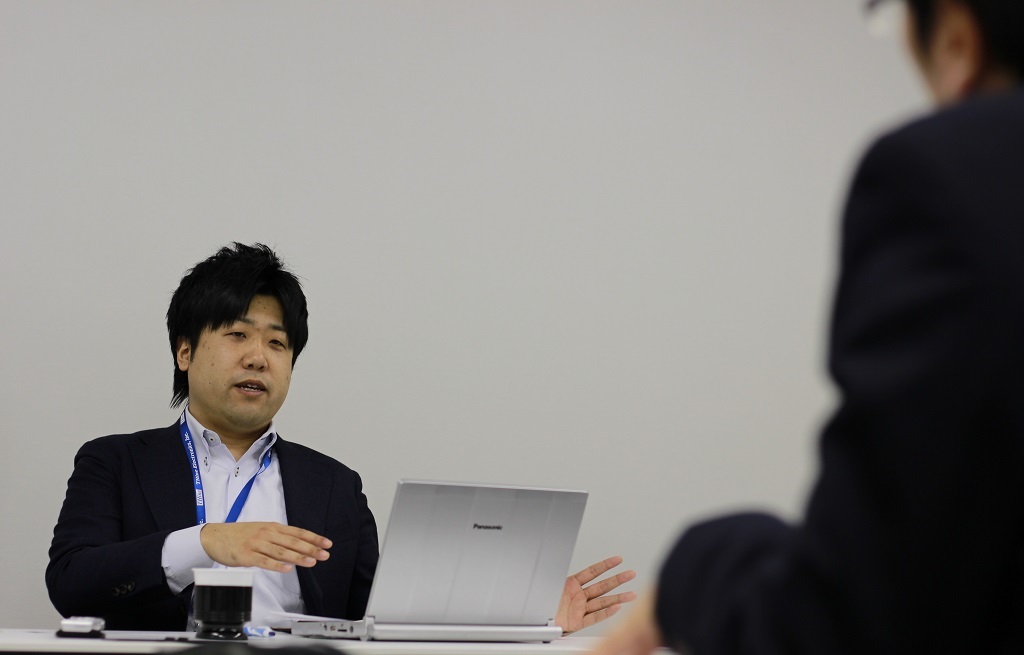 "Recently, many electronics device manufacturers, in an attempt to create a feature that is different from competitors, strive to add functions from various aspects and improve the performance of an entire system. To this end, it is inevitable to evolve LSI that exists in systems. But, as LSI has increased in performance and integration density, we are required to satisfy far stricter requirements for the power supply that activates the LSI. In the last few years, system designs that used existing power supplies were not able to stably activate LSI, thus causing frequent errors to the entire system. The market eagerly waited for a power supply with high stability."
In recent years, to keep a lid on development cost, system designers have been placing more focus on LSI, such as FPGA and SOC, when developing new systems. Currently, cutting-edge FPGA using a 20nm or 16nm fabrication process has started to be used in the market, but FPGA produced on 10nm or even a few nm process will appear soon. To activate such FPGA, the power supply should generate much higher current with lower voltage in a more stable operation than ever before. In addition, since more densely compacted systems are needed, the area allocated for the power supply unit is shrinking, and cost cutting is expected, accordingly. Furthermore, shortening development lead time is most likely to continue to be required. The answer to all these issues is a power module, a modularized power supply, which can provide solutions. This was where we thought we would be able to display our strengths and respond to the market needs.
Mizutori said, "Our new power module THV81800 has put all the devices necessary for switching power supply, including the PWM controller, gate driver, FET, inductor, resistance, and capacitor into one package, and reduced its mounting area, which was previously expected to be necessary, by 50%. It is also designed to be strong against sharp fluctuation of load disturbance. If customers design a power supply by themselves, they need many man-hours for design, pushing upward development and personnel costs. If they use our new power module, the design period can be reduced at least by one month. Considering the entire development process, using our power module will be more economical."
Collaboration of analogue and interface technologies will open up a new path
Mizutori stressed that we are in a time of major change in power supply.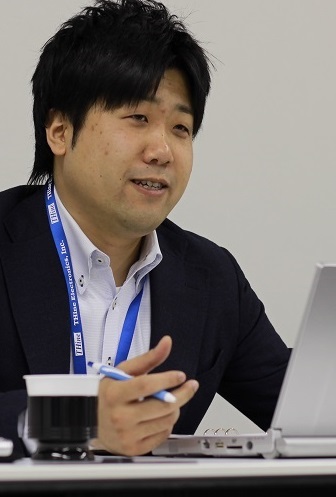 The major changes we experienced before were when a dropper power supply was changed to a switching type and when digital power supply was born. Now, the power supply needs to be further transformed to meet new market needs, but manufactures who can develop a high level of power supply that satisfies the needs are few in number.
Mizutori pointed out, "We judged that our strengths, which are our interface and image processing technologies, will undoubtedly enable us to take the lead in the development of high level of power supplies in the future."
In developing them, the fact that we have an environment to develop semiconductors by ourselves serves as a strong advantage, because this enables us to develop and include a controller IC in a power supply based on the market needs, and provide exactly what the market desires. In addition, "Since one of our strengths is interface technology, we will be able to establish an environment for various LSI circuits to be activated in linkage with the power supply, and we can even provide such an environment for our customers and partners," said Mizutori.
He was proud that THine Electronics is one of the few companies that will be able to make innovation happen in the power supply market.
The pillar of business at THine Electronics is technological capability that has big potential. The new collaboration between interface technology, the core of our strength, and power supply is expected to be evolved further by our passionate employees who strongly support product planning.
223__RCMS_CONTENT_BOUNDARY__224__RCMS_CONTENT_BOUNDARY__225__RCMS_CONTENT_BOUNDARY__226__RCMS_CONTENT_BOUNDARY__228__RCMS_CONTENT_BOUNDARY____RCMS_CONTENT_BOUNDARY____RCMS_CONTENT_BOUNDARY____RCMS_CONTENT_BOUNDARY____RCMS_CONTENT_BOUNDARY__
__RCMS_CONTENT_BOUNDARY____RCMS_CONTENT_BOUNDARY____RCMS_CONTENT_BOUNDARY____RCMS_CONTENT_BOUNDARY____RCMS_CONTENT_BOUNDARY____RCMS_CONTENT_BOUNDARY____RCMS_CONTENT_BOUNDARY____RCMS_CONTENT_BOUNDARY____RCMS_CONTENT_BOUNDARY__
__RCMS_CONTENT_BOUNDARY____RCMS_CONTENT_BOUNDARY____RCMS_CONTENT_BOUNDARY____RCMS_CONTENT_BOUNDARY____RCMS_CONTENT_BOUNDARY____RCMS_CONTENT_BOUNDARY____RCMS_CONTENT_BOUNDARY____RCMS_CONTENT_BOUNDARY____RCMS_CONTENT_BOUNDARY__


Related Products
Power Module

THV81800

Ultra-high-speed transient response power module
Ultra-high-speed transient response power module

Related Solutions
The power turn on and turn off sequence is becoming more complicated in recent years. THine Electronics' power solution, however, has made it possible to achieve it easily, contributing to reduction in customers' total cost of system development.THine Electronics, Inc. is a global leader in high-speed serial interfaces and provider of mixed-signal LSI and has offered new valuable solutions for global customers based on its own innovative technologies.