HOME >
<CES2016> High-Resolution Panel Solution inspired the Automotive Market
Enthusiastic THine employees' columns, stories, and excellent
solutions welcomed by many customers.
Planning Column
<CES2016> High-Resolution Panel Solution inspired the Automotive Market
THine Electronics, Inc. (THine) demonstrated two of our solutions for the automotive market at the Consumer Technology Association tradeshow (CES 2016). CES 2016 was from January 6th to the 9th in Las Vegas, Nevada. Our solutions - the Surround View Monitor (SVM) and High-Resolution Panels – are inspiring innovation and catching the industry's attention.
Our Co-Demonstration began back at the Automotive Engineering Exposition 2015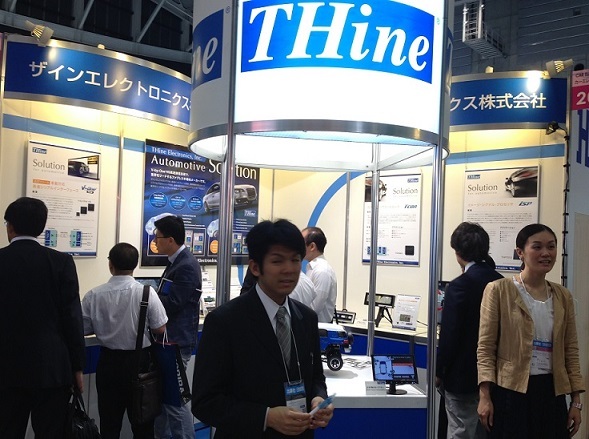 In 2015, THine demonstrated the SVM system by showcasing its high-speed data transmission and image processing technology at the Automotive Engineers Exposition 2015. Its advanced ability gathered the attention of attendants and companies alike.
Hirose Electric Co., Ltd. (Hirose) was exhibiting in the booth next to THine's and proposed a co-demonstration of products. Mr. Sato, the Automotive Group Manager in the Product Planning Division of THine, was thrilled at the rare combination. "It was a great chance to enhance our presence for the automotive market," Mr. Sato said, "the combination of our unique technology…enabled a stronger solution."
THine and Hirose decided more co-demonstrations could bring both company's strengths together. So, both THine and Hirose shared technology for demonstrations at CES 2016. THine's SVM system and automotive solutions were prominently displayed to show their state-of-the-art technology.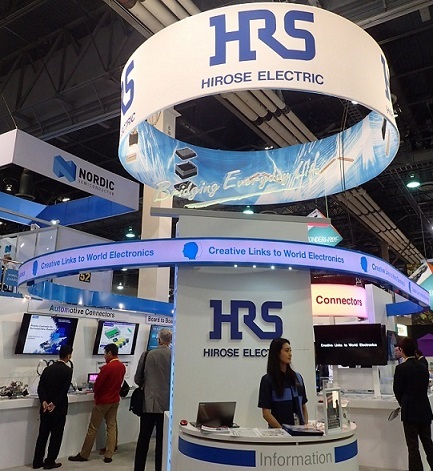 SVM Long-Distance Transmission possible with V-by-One® HS Technology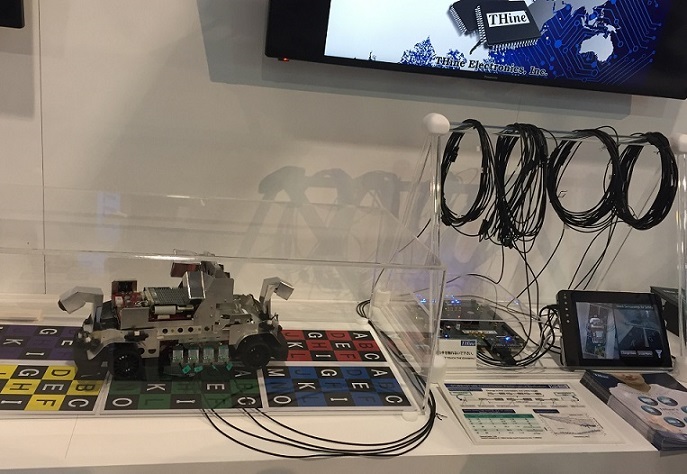 Mr. Sato cared deeply about showing THine's SVM system effectively at CES 2016. So, THine proposed using its V-by-One® HS Technology to demonstrate SVM's many applications. The technology needed to be stunning to attract attention at the largest electronics show in the world.
Since visitors come from all over, demonstrations must be simple while also having a strong impact. THine proceeded to show the robust design of the system by dropping the SVM system to the ground before demonstrating its technology. The system's image was still "natural and smooth" to visitors. They were also impressed at the high-speed data transmission through a 20 meter long automotive cable. "How do you handle the data processing?" asked one visitor. THine found the solution by incorporating the V-by-One® HS Technology.
Showcasing the High-Resolution Panel Solution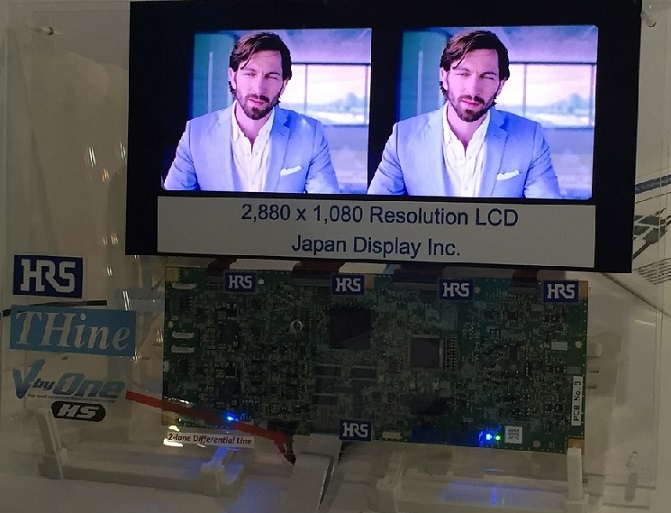 Another brilliant demonstration at CES 2016 was THine's new high-resolution solution for automotive applications. Again using the V-by-One® HS Technology, THine impressed visitors with 12,3-inch panels at a 3K resolution (2880 X 1080). That is 1,5 times more resolution than Full HD, but with the V-by-One® HS, it only requires two lanes to achieve it.
The display was in a media box to compare a Full HD image with THine's 3K high-resolution panel. The panel was optimized with a TCON board and V-by-One® HS Technology. This showcased the unbelievable clarity created by THine. It is a true innovation for automotive applications. Many visitors "have never seen such a high resolution in the automotive market."
THine's Next Step
With the end of CES 2016, THine left with great expectations for the future of automotive innovation with the cooperation of other great companies. Mr. Sato hopes to "accelerate our automotive solution proposals by constructing a stronger ecosystem with our partners." In 2016, THine will continue to new value for even more attractive solutions.
210__RCMS_CONTENT_BOUNDARY____RCMS_CONTENT_BOUNDARY____RCMS_CONTENT_BOUNDARY____RCMS_CONTENT_BOUNDARY____RCMS_CONTENT_BOUNDARY____RCMS_CONTENT_BOUNDARY____RCMS_CONTENT_BOUNDARY____RCMS_CONTENT_BOUNDARY____RCMS_CONTENT_BOUNDARY__
__RCMS_CONTENT_BOUNDARY____RCMS_CONTENT_BOUNDARY____RCMS_CONTENT_BOUNDARY____RCMS_CONTENT_BOUNDARY____RCMS_CONTENT_BOUNDARY____RCMS_CONTENT_BOUNDARY____RCMS_CONTENT_BOUNDARY____RCMS_CONTENT_BOUNDARY____RCMS_CONTENT_BOUNDARY__
__RCMS_CONTENT_BOUNDARY____RCMS_CONTENT_BOUNDARY____RCMS_CONTENT_BOUNDARY____RCMS_CONTENT_BOUNDARY____RCMS_CONTENT_BOUNDARY____RCMS_CONTENT_BOUNDARY____RCMS_CONTENT_BOUNDARY____RCMS_CONTENT_BOUNDARY____RCMS_CONTENT_BOUNDARY__


Related Products
THCV Series
ISP THP Series
THF Series for General Purpose TCON