HOME >
How to trust the production process of a fabless semiconductor company.
Enthusiastic THine employees' columns, stories, and excellent
solutions welcomed by many customers.
Support Solution
How to trust the production process of a fabless semiconductor company.
Some customers are worried about the quality assurance of a fabless semiconductor company, imaging it might be left to the manufacturing subcontractors. THine Electronics proudly thinks there is no inferiority to those who owns fabs.
Anxiety of a customer
Customers who for the first time adopted THine Electronics product often ask,

"OK, we understand the general reliability evaluation program, but isn't it important that you should monitor the manufarutring process of the fabs to avoid the market defect?"

"How do you manage the manufacturing process of the subcontracted fab?"

"Actually, we are worried fabless makers might let whole responsibility thrown to the fab..."

Production management system of THine Electronics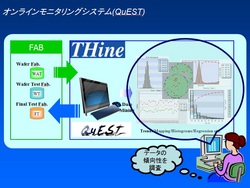 THine Electronics takes customer required QCD (Quality, Cost and Delivery) very seriously, monitoring every
quality reporting data of each manufacturing process from
wafer manufacturing
process to IC packing process of every subcontracted factory.
In 2012, THine integrated all management systems into one automated system called QuEST, realizing projects other than "management", such as yield rate improving.
Customers' Trust is THine's First Priority
After understanding THine Electronics production management system, those who have been worried about the quality security at first sometimes say:
"We feel relieved since you are managing the manufacturing process effectively even your company is fabless."
"That management is well enough for us to adopt your products."
As well as manufacturing accurately and properly, THine Electronics as a maker thinks it also important that customers must feel relieved about the quality assurance.
210__RCMS_CONTENT_BOUNDARY____RCMS_CONTENT_BOUNDARY____RCMS_CONTENT_BOUNDARY____RCMS_CONTENT_BOUNDARY____RCMS_CONTENT_BOUNDARY____RCMS_CONTENT_BOUNDARY____RCMS_CONTENT_BOUNDARY____RCMS_CONTENT_BOUNDARY____RCMS_CONTENT_BOUNDARY__
__RCMS_CONTENT_BOUNDARY____RCMS_CONTENT_BOUNDARY____RCMS_CONTENT_BOUNDARY____RCMS_CONTENT_BOUNDARY____RCMS_CONTENT_BOUNDARY____RCMS_CONTENT_BOUNDARY____RCMS_CONTENT_BOUNDARY____RCMS_CONTENT_BOUNDARY____RCMS_CONTENT_BOUNDARY__
__RCMS_CONTENT_BOUNDARY____RCMS_CONTENT_BOUNDARY____RCMS_CONTENT_BOUNDARY____RCMS_CONTENT_BOUNDARY____RCMS_CONTENT_BOUNDARY____RCMS_CONTENT_BOUNDARY____RCMS_CONTENT_BOUNDARY____RCMS_CONTENT_BOUNDARY____RCMS_CONTENT_BOUNDARY__