HOME >
Shine like Sirius! Journey to development of a Motor Driver
Enthusiastic THine employees' columns, stories, and excellent
solutions welcomed by many customers.
Development Column
Shine like Sirius! Journey to development of a Motor Driver
Early in the summer 2012, a new bet-the-company project, "Sirius", was about to start at THine Electronics. Selected as the project leader was Noguchi, a young engineer, who was in his second year with the company. Here started his challenge that would continue for about three years.
The need for a departure from the TV-dependent structure of the company required new product development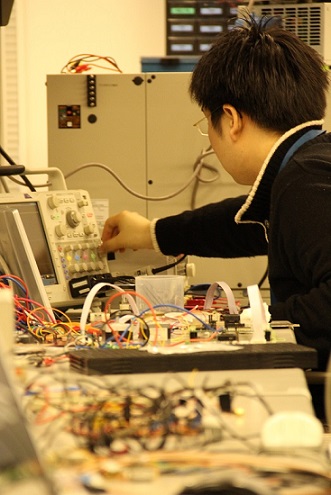 At a weekly company-wide meeting on a Monday in May 2012, a department announced a new project, "We are planning to develop a motor driver." Noguchi found himself declaring his wish to be part of the project.
THine Electronics, since its foundation in 1991, has gained a reputation as a representative company driving the Japanese semiconductor market. However, the shift from analogue to digital was taking place. To respond to the change, the company was increasing efforts to expand sales channels by shifting its income base to devices for office machinery and gaming machines instead of continuing to rely only on LSI circuits for TV.
Noguchi says, "Two weeks after I volunteered to help, I was called by my manager. To my surprise, I was informed that I had been assigned as the project leader."
The project name is "Sirius"
In technical college, Noguchi and his teammates participated in a robot contest with their handcrafted motor driver, and in college, he researched compound semiconductors, LED, and LSI, diligently applying himself to the fields that are necessary to become a design engineer.

He recalls, "Looking back, I think experiences in my school days have supported me after joining the company."

He named the new project "Sirius" – the most brilliant star in the night sky.
Team's three years of challenge to bet the company
Development, however, was full of unexpected hardships. In the case of development or refinement of a semiconductor, it usually takes from six to ten months if process goes smoothly.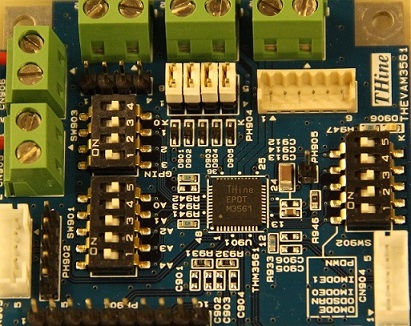 Developing a motor driver was different. Noguchi comments, "We had to create prototypes repeatedly and two years was needed to complete the final version of the operation sample. This was followed by the evaluation and reliability tests. Eventually, it took three years until the commercial production was approved. I remember especially that we were dumfounded to find an abundance of technical issues with the first prototype."

Still, nobody gave up.

He says, "With a sense of mission, 'We must not finish with a prototype but should commercialize it,' all of us desperately racked our brains, helped one another, and solved the issues."

Finally, they won approval for mass production in January 2015.
Toward a "motor driver" you feel like using
"When the motor ran for the first time, I was deeply moved," Noguchi says.
The "THM3561" (THM35 series) developed by Noguchi's team is a new-concept motor driver integrating the high-integrity LVDS, which THine excels in, and power IC technology.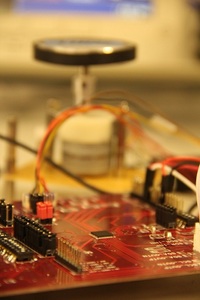 "Since the LED is lit by the same command signal as the motor, the load on the microcomputer is small, cost is saved, and design efficiency improves. It also contains our unique technology through which the interfaces with the microcomputer are put into one control line to make both cascade connection and multi-drop connection available via THM3561 when connecting a motor driver or an LED driver. Actually, in one case we reduced 15 wiring lines down to four."
Noguchi comments, "When we were at a loss, we returned to the basics, 'Which is easier to use for customers?' We kept that in mind and tried not to deviate from it." He has fulfilled a big role now. Although the development of the next model of the machine has already started, he has decided to give over the responsibility of leadership to his successor and to dedicate himself to LSI design, so that he and his team will lay a foundation for movement toward the next phase.
"I always want to be the No.1 specialist in motors. For the time being, I want to listen to customers' voices, visit exhibitions, and participate in academic societies so that I can bring in various knowledge from outside."
The motor drive Noguchi developed has become an indispensable product, one of the pillars for the company to achieve the target, "2.5 billion yen profit." Challenges of the company will continue to be supported by employees with ardent aspirations like Noguchi.
225__RCMS_CONTENT_BOUNDARY____RCMS_CONTENT_BOUNDARY____RCMS_CONTENT_BOUNDARY____RCMS_CONTENT_BOUNDARY____RCMS_CONTENT_BOUNDARY____RCMS_CONTENT_BOUNDARY____RCMS_CONTENT_BOUNDARY____RCMS_CONTENT_BOUNDARY____RCMS_CONTENT_BOUNDARY__
__RCMS_CONTENT_BOUNDARY____RCMS_CONTENT_BOUNDARY____RCMS_CONTENT_BOUNDARY____RCMS_CONTENT_BOUNDARY____RCMS_CONTENT_BOUNDARY____RCMS_CONTENT_BOUNDARY____RCMS_CONTENT_BOUNDARY____RCMS_CONTENT_BOUNDARY____RCMS_CONTENT_BOUNDARY__
__RCMS_CONTENT_BOUNDARY____RCMS_CONTENT_BOUNDARY____RCMS_CONTENT_BOUNDARY____RCMS_CONTENT_BOUNDARY____RCMS_CONTENT_BOUNDARY____RCMS_CONTENT_BOUNDARY____RCMS_CONTENT_BOUNDARY____RCMS_CONTENT_BOUNDARY____RCMS_CONTENT_BOUNDARY__