HOME >
How to reduce the number of cables between IC boards
Enthusiastic THine employees' columns, stories, and excellent
solutions welcomed by many customers.
Wire Solution
How to reduce the number of cables between IC boards
The more data you want to transmit, the more wires/cables you need. It bothers you not only when you design the boards finding many wires require much space and searching for appropriate cables from huge cable list, but when you realize how much the cost will be. Here is one of the best solutions THine Electronics offers.
Cables between boards in TV set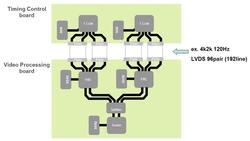 SerDes technology which requres separated pair cables - transmitting clock signal pair and data signal pair, which LVDS is representative of, had been adopted for image transmitting in flat panel TV set.

With flat panel TV getting larger and more high quality, it is required to transmit more image data than ever.

The increasing data of image, when transmitted in LVDS, causes increasing of the number of the cables and less transmitting quality because of the skew between the cables.
The key solution of V-by-One®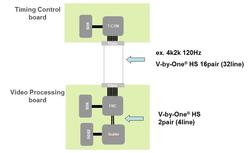 As the next generation of image data transimitting technology, V-by-One
® HS realizes large mount of merits that includes solving skew problem, high quality in image data transmitting, EMI, less power consumption, and also total cost reduction because of decreasing of the number of the cables, which is because Clock Data Recovery (CDR) technology and existing THine SerDes technology enable transmitting 4 Gbps per ONE pair of the cables.
210__RCMS_CONTENT_BOUNDARY__212__RCMS_CONTENT_BOUNDARY__226__RCMS_CONTENT_BOUNDARY__227__RCMS_CONTENT_BOUNDARY__228__RCMS_CONTENT_BOUNDARY__225__RCMS_CONTENT_BOUNDARY__224__RCMS_CONTENT_BOUNDARY__229__RCMS_CONTENT_BOUNDARY____RCMS_CONTENT_BOUNDARY__
__RCMS_CONTENT_BOUNDARY____RCMS_CONTENT_BOUNDARY____RCMS_CONTENT_BOUNDARY____RCMS_CONTENT_BOUNDARY____RCMS_CONTENT_BOUNDARY____RCMS_CONTENT_BOUNDARY____RCMS_CONTENT_BOUNDARY____RCMS_CONTENT_BOUNDARY____RCMS_CONTENT_BOUNDARY__
__RCMS_CONTENT_BOUNDARY____RCMS_CONTENT_BOUNDARY____RCMS_CONTENT_BOUNDARY____RCMS_CONTENT_BOUNDARY____RCMS_CONTENT_BOUNDARY____RCMS_CONTENT_BOUNDARY____RCMS_CONTENT_BOUNDARY____RCMS_CONTENT_BOUNDARY____RCMS_CONTENT_BOUNDARY__


Related Products
THCV Series
V-by-One® Serial/De-Serializer