HOME >
How to choose interfaces to those of prior and succeeding ICs?
Enthusiastic THine employees' columns, stories, and excellent
solutions welcomed by many customers.
Wire Solution
How to choose interfaces to those of prior and succeeding ICs?
Sometimes, the interface between ICs rules. How your business goes well depends on which one you choose from so many interfaces.
Business opportunity depends on the interface?
There is no perfect answer.
Especially for image processing ICs, it is required to apply to prior IC and meta IC.
If you pick one that is less demanded interface, so will be your business.
Case of image process IC
Proposal of THine Electronics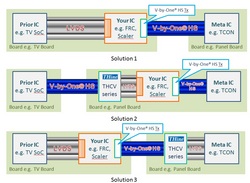 THine Electronics proposed the customer as follows:
(1) to let LVDS in (Rx) and V-by-One® HS out (Tx) for their IC
(2) to place bridge IC, if needed, depending on what their customer's IC (prior/meta IC)

THine Electronics knew there are many prior ICs which transmit LVDS, because their customers who make the prior ICs are THine's customers.
Also, V-by-One® HS is predominantly beneficial solution for cabling between boards.

THine Electronics can this proposal because THine has not only the know-how for concerned market but also very varied bridge ICs as THine's own products such as V-by-One® HS which THine itself invented and TTL/CMOS and LVDS for which THine has world's leading achievements and know-how.
212__RCMS_CONTENT_BOUNDARY____RCMS_CONTENT_BOUNDARY____RCMS_CONTENT_BOUNDARY____RCMS_CONTENT_BOUNDARY____RCMS_CONTENT_BOUNDARY____RCMS_CONTENT_BOUNDARY____RCMS_CONTENT_BOUNDARY____RCMS_CONTENT_BOUNDARY____RCMS_CONTENT_BOUNDARY__
__RCMS_CONTENT_BOUNDARY____RCMS_CONTENT_BOUNDARY____RCMS_CONTENT_BOUNDARY____RCMS_CONTENT_BOUNDARY____RCMS_CONTENT_BOUNDARY____RCMS_CONTENT_BOUNDARY____RCMS_CONTENT_BOUNDARY____RCMS_CONTENT_BOUNDARY____RCMS_CONTENT_BOUNDARY__
__RCMS_CONTENT_BOUNDARY____RCMS_CONTENT_BOUNDARY____RCMS_CONTENT_BOUNDARY____RCMS_CONTENT_BOUNDARY____RCMS_CONTENT_BOUNDARY____RCMS_CONTENT_BOUNDARY____RCMS_CONTENT_BOUNDARY____RCMS_CONTENT_BOUNDARY____RCMS_CONTENT_BOUNDARY__