Enthusiastic THine employees' columns, stories, and excellent
solutions welcomed by many customers.
EMI Solution
How to reduce EMI
The more you want to transmit data, the more EMI bothers.
Why EMI of V-by-One® HS is remarkable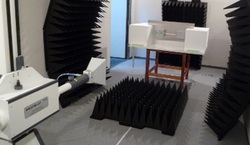 Following solution which is one of the best presentations THine has provided is introducing you to be free from EMI
Answer(1) V-by-One® HS has no clock signal

The main reason of electromagnetic interreference noise influencing nearing circuit is the fixed frequency signal such as CLK in the transmission line, radiating wave with the same or higher harmonic frequency. Either TTL/CMOS or LVDS transmission for image/picture requires CLK signal parallelly transmitted with data signal, radiating unwanted electromagnetic ineterreference noise.
However, V-by-One® HS multiplexes CLK and data, using Clock Data Recovery (CDR) technology. Thus, with no CLK signal of fixed frequency, there is far less EMI.
Answer (2) Scrambling Transmission
CLK is not the only signal that radiates EMI. The fixed frequency signal, the main reason of EMI, can be radiated by data signal, especially when data has cycled signal.
V-by-One® HS transmitter (Tx) does not allow cycled data signal to be transmitted having scrambling circuit. The scrambled data is restored by Descrambler of V-by-One® HS receiver (Rx).
Answer (3) Termination system of CML line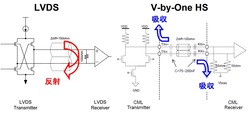 Another reason of EMI is Common Mode Noise (CMN). This noise remains in transmission line whose line end between defferencial signals, such as LVDS, is terminated with resistence, because the line is not connected to GND.
However, CMN of V-by-One® HS, having Current Mode Logic (CML), is absorbed at the end of the line.
212__RCMS_CONTENT_BOUNDARY__226__RCMS_CONTENT_BOUNDARY__210__RCMS_CONTENT_BOUNDARY____RCMS_CONTENT_BOUNDARY____RCMS_CONTENT_BOUNDARY____RCMS_CONTENT_BOUNDARY____RCMS_CONTENT_BOUNDARY____RCMS_CONTENT_BOUNDARY____RCMS_CONTENT_BOUNDARY__
__RCMS_CONTENT_BOUNDARY____RCMS_CONTENT_BOUNDARY____RCMS_CONTENT_BOUNDARY____RCMS_CONTENT_BOUNDARY____RCMS_CONTENT_BOUNDARY____RCMS_CONTENT_BOUNDARY____RCMS_CONTENT_BOUNDARY____RCMS_CONTENT_BOUNDARY____RCMS_CONTENT_BOUNDARY__
__RCMS_CONTENT_BOUNDARY____RCMS_CONTENT_BOUNDARY____RCMS_CONTENT_BOUNDARY____RCMS_CONTENT_BOUNDARY____RCMS_CONTENT_BOUNDARY____RCMS_CONTENT_BOUNDARY____RCMS_CONTENT_BOUNDARY____RCMS_CONTENT_BOUNDARY____RCMS_CONTENT_BOUNDARY__


Related Products
THCV Series
V-by-One® Serial/De-Serializer