HOME >
How to respond to cost reduction requirement
Enthusiastic THine employees' columns, stories, and excellent
solutions welcomed by many customers.
Cost Solution
How to respond to cost reduction requirement
Cost reduction is very important issue at all time. When the production comes to mature period, or when adopting new product concept model, THine Electronics propose solutions knowing the customer's concern.
Pin to Pin solution for LVDS bridge IC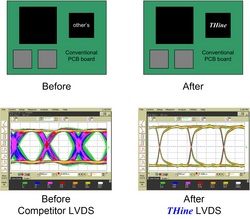 Some of THine products are of the pin-to-pin solution. Customers using LVDS products of other vendors complained that the quality and cost are not well enough to design. THine Electronics has produced LVDS which does not require to change the board, now supplying steadily with world class high quality and reasonable price and sufficient support.
THine LVDS ICs, world class varied line-up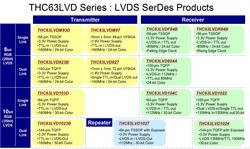 THine Electronics has been broadened the interface IC line-up according to the applications which THine customers like to realize. Depending on size and voltage consumption and so on, you can find suited product as you like. Because you do not have to compromise as much as with products of other vendor's, you can optimize system function planning and heat management and BOM cost.
Solution that the only specialist in interface can do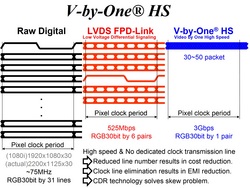 THine Electronics, reserched and developped and done everything regarding LVDS interface, finally grasps its bright side and dark side. Based on such experience, THine's brand-new interface proposals are provided to the world regardless of which market it belongs.
As for V-by-One®HS, it is the result of THine Electronics proposals that aimed to realize newest picture/image experiences to everyone's lives in reasonable cost, resolving series of LVDS issues such as the number of lines, EMI, transmission length, etc.
212__RCMS_CONTENT_BOUNDARY__224__RCMS_CONTENT_BOUNDARY__226__RCMS_CONTENT_BOUNDARY__223__RCMS_CONTENT_BOUNDARY__210__RCMS_CONTENT_BOUNDARY__229__RCMS_CONTENT_BOUNDARY__227__RCMS_CONTENT_BOUNDARY____RCMS_CONTENT_BOUNDARY____RCMS_CONTENT_BOUNDARY__
__RCMS_CONTENT_BOUNDARY____RCMS_CONTENT_BOUNDARY____RCMS_CONTENT_BOUNDARY____RCMS_CONTENT_BOUNDARY____RCMS_CONTENT_BOUNDARY____RCMS_CONTENT_BOUNDARY____RCMS_CONTENT_BOUNDARY____RCMS_CONTENT_BOUNDARY____RCMS_CONTENT_BOUNDARY__
__RCMS_CONTENT_BOUNDARY____RCMS_CONTENT_BOUNDARY____RCMS_CONTENT_BOUNDARY____RCMS_CONTENT_BOUNDARY____RCMS_CONTENT_BOUNDARY____RCMS_CONTENT_BOUNDARY____RCMS_CONTENT_BOUNDARY____RCMS_CONTENT_BOUNDARY____RCMS_CONTENT_BOUNDARY__


Related Products
THCV Series
V-by-One® Serial/De-Serializer
THC63LVD series