HOME >
Build camera-system
Enthusiastic THine employees' columns, stories, and excellent
solutions welcomed by many customers.
Picture Solution
Build camera-system
THine Electronics has key technologies to realize camera system, which are Image Signal Processor (ISP) and high speed interface.
ISP for high quality pictures, another key technology of THine Electronics

High quality CMOS Sensor devices do not transmits picture image data which we imagine, because you cannot care about it since the devises commit in the analog characteristics alone transforming light information into electrical information. To make picture image data, we need Image Signal Processor (ISP), which requires a lot of know-how and powerful engine.
THine Electronics contributes to its customers developing their final products with providing ASSP ISP and helping customers to making out the picture. ASSP ISP has more powerful functions than those including ISP as an accessory block.
Long distance data transmission of camera images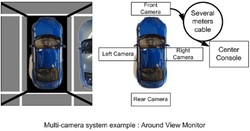 More functions of cameras as well as cameras themselves are getting needed around us.
Thus there are getting more cases that many cameras are required to be connected at a time and some of the cameras are far from the system box.
Many of THine Electronics interface ICs provide solutions that helps you to have such camera-system with very few number of cables but enough data amount and length. Since you do not need any special (expensive) cables, the cost will not bother you.
Provision of reference design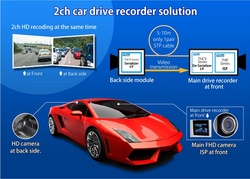 In these fast-changing days, it is the obvious key to succeed that you shorten the time-to-market to put your products.
Answering the customers' voices, THine Electronics provides conprehensive supports including refference disigns to add required functions to the final products, and files ready to applied to customers' circuit plans and guidance for its procedure.
Here is one of the presentations, a referrence design of 2 channel (FHD and HD) drive recorder for high-end car drive recorder market.
227__RCMS_CONTENT_BOUNDARY__224__RCMS_CONTENT_BOUNDARY__223__RCMS_CONTENT_BOUNDARY__210__RCMS_CONTENT_BOUNDARY____RCMS_CONTENT_BOUNDARY____RCMS_CONTENT_BOUNDARY____RCMS_CONTENT_BOUNDARY____RCMS_CONTENT_BOUNDARY____RCMS_CONTENT_BOUNDARY__
__RCMS_CONTENT_BOUNDARY____RCMS_CONTENT_BOUNDARY____RCMS_CONTENT_BOUNDARY____RCMS_CONTENT_BOUNDARY____RCMS_CONTENT_BOUNDARY____RCMS_CONTENT_BOUNDARY____RCMS_CONTENT_BOUNDARY____RCMS_CONTENT_BOUNDARY____RCMS_CONTENT_BOUNDARY__
__RCMS_CONTENT_BOUNDARY____RCMS_CONTENT_BOUNDARY____RCMS_CONTENT_BOUNDARY____RCMS_CONTENT_BOUNDARY____RCMS_CONTENT_BOUNDARY____RCMS_CONTENT_BOUNDARY____RCMS_CONTENT_BOUNDARY____RCMS_CONTENT_BOUNDARY____RCMS_CONTENT_BOUNDARY__


Related Products
ISP (Image Signal Processor)

THP7312

16Mega Pixel Image Signal Processor
ISP THP Series

Related Column
What is ISP? This is frequently asked question. We are going to explain about ISP which will become something familiar to our lives.